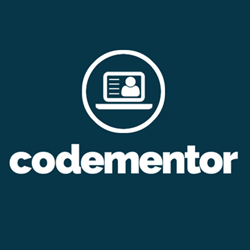 Codementor's global network of expert developers combined with RefactorU's proven content gives online learners the accountability and access to mentoring that they need to succeed.
Boulder, CO (PRWEB) December 04, 2014
RefactorU, a learning experiences company focused on helping early-mid career switchers transition to creative technology careers has partnered with Codementor, an online marketplace connecting developers with experts for on-demand, one-on-one help via screen sharing, video and text chat. These two elite, best-of-breed programs have partnered on a joint offering to enable aspiring developers to more efficiently and cost effectively gain web application development skills and other high-demand technology skills.
The joint offering combines RefactorU's proven, real-world curriculum and content with Codementor's global network of professional developers and technology experts. The offerings include two monthly subscriptions where learners get unlimited access to over 200+ video lectures, 50+ exercises and solutions, a peer-to-peer online network, access to RefactorU's guest speakers, exclusive webinars, etc, in addition to one-on-one, face-to-face remote mentoring with one of Codementor's experts.
Weiting Liu, CEO at Codementor commented, "An aspiring developer who tries to learn with tools found online often faces challenges that online-only resources like Codecademy, Code School, etc., do not effectively address, namely a lack of personal accountability and access to live, expert mentors. Attrition rates of MOOCs are as high as 90%."
Sean Daken, RefactorU's CEO added, "At RefactorU, approximately 95% of graduates are employed as developers within three months of finishing our full-stack web application development bootcamp, with an attrition rate of less than 5%. This is because of a combination of unique classroom learning structures, individual and peer accountability, and immediate access to expert instructors and facilitators. I'm excited about this partnership. RefactorU's proven content combined with Codementor's global network of expert developers gives online learners the tools, accountability, and access to mentoring that they need to succeed. Without those resources, the same online-only learners have a much lower chance of meeting their goals."
The joint Codementor-RefactorU offering is available at http://refactoru.com in two tiers. The first called "Retain" is $250 per month and includes RefactorU's proprietary content and exercises, plus up to 4 hours of one-on-one time with a Codementor expert mentor. "Reinvent" includes the same content and exercises as "Retain", plus several additional benefits (monthly webinars, live-streaming classroom access, etc.) and includes up to 16 hours per month with a Codementor expert. Both tiers come with a 10-day free trial and learners may cancel at anytime.
In recognition of the fact that many people who start out learning to code online may eventually want to transition to RefactorU's intensive classroom learning experiences, RefactorU will allow subscribers to the online learning offering to apply a portion of the cost of their online subscription to attend RefactorU's bootcamp or other classroom courses. For more information on this, please contact RefactorU directly.
About Codementor
Codementor, a Techstars-backed company, is an open marketplace for one-on-one software development help. We connect developers to experts instantly via screen sharing, video and text chat. Codementor covers over 800+ topics including web development categories such as JavaScript, Ruby, PHP, CSS/HTML, Node.js, iOS, and Android. Learn more about Codementor at https://www.codementor.io.
About RefactorU
RefactorU accelerates the learning and development of the world's aspiring creatives, makers, and technologists. RefactorU empowers individuals to reinvent themselves to meet the needs of today's technology-driven economy while building lifelong professional networks for the future. RefactorU also enables corporate technology teams to significantly improve bench strength while increasing employee retention and reducing risk. Learn more about RefactorU at http://refactoru.com.