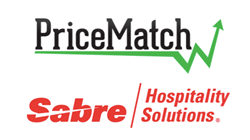 Integrating PriceMatch with our SynXis CR has made our revenue management and online distribution a seamless experience
Paris, France (PRWEB) December 05, 2014
PriceMatch, a next-generation revenue management solution, today announced the successful integration with the SynXis CR (formerly branded SynXis CRS), part of Sabre's SynXis Enterprise Platform, to bring enhanced productivity and greater efficiency for mutual clients.
PriceMatch provides a revenue management platform with advanced econometrics and an intuitive user interface. Hotel demand forecasting and price optimisation automatically takes into account; competitor rates, hotel online reputation, local events, weather, flight demand and other data points.
LGH Hotels in France were the pilot for the integration. Group Revenue Manager, Fatah Guellati said, "Our hotels in Paris and Toulouse operate in highly competitive hotel markets, so every productivity gain we can achieve, greatly improves our profitability which makes our owners happy. Integrating PriceMatch with our SynXis CR has made our revenue management and online distribution a seamless experience."
"At PriceMatch we have a shared vision with Sabre, which is a focussed effort on helping independent and chain hotels thrive and grow their business. Automating our optimized pricing decision with a direct integration to the CRS gives our mutual customers a huge productivity gain and a competitive advantage," said Erik Munoz, Chief Marketing Officer of PriceMatch.
The SynXis CR is powered by Sabre's SynXis Enterprise Platform, an integrated technology platform that combines critical hotel functions into one intelligent, reliable system, allowing hoteliers to focus on the most important part of their business – serving guests.
About PriceMatch:
PriceMatch provides an innovative and easy-to-use revenue management solution designed for both hotel managers and experienced revenue managers. Using big data and advanced econometric tools, the PriceMatch algorithm provides pricing recommendations through an extremely user-friendly website. Our account managers and engineers can provide you with a personalized experience to help optimize your RevPar.
More info at https://www.pricematch.travel