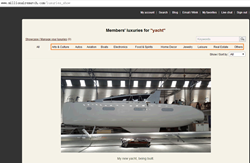 (PRWEB) December 10, 2014
MillionaireMatch.com, a dating site with a lot of verified successful singles, features many ways for their members to connect and start conversations with other members. The "members' luxuries" section has become popular among its users. In the "member's luxuries" section of the site, members are able to show off their favorite toys and luxuries, and other users are able to see and comment on them. Some of the luxuries that members enjoy sharing include: yachts, fine art, automobiles, private planes, electronics, vacation homes, favorite foods, fine wines and spirits, horses, and jewelry.
Sammy, the leader of MillionaireMatch.com, says, "The 'members' luxuries section allows users to connect with users who share their interests, whether they both enjoy fine art, motorcycles, boating, or quiet time at a lakeside cabin." She adds, "It gives our members an opportunity to allow their hobbies and interests to shine, and they are able to connect with users who they may not have traditionally connected with, because they have a new forum to engage with each other in."
According to Sammy, one of the reasons that this feature is so popular is that it gives members with similar interests a new way to spark conversations; "One of the hardest parts about online dating is finding people who interest you. This feature allows our members to do both."
"Members' luxuries" is just one of the many ways that users can connect with each other on MillionaireMatch.com. Users are able to engage through traditional online dating profiles and pictures and a new feature to rapidly connect them to users in their area, as well as through forums. In MillionaireMatch.com's forums, members engage in discussions that range from their idea of a perfect first date to favorite activities. Members who recognize a kindred spirit on the forums are able to start a conversation with other members.
The millionaire online site MillionaireMatch.com is dedicated to connecting "successful, attractive, available singles". In its 13 years, it has received a number of accolades, including being voted "Best of the Web" by Forbes.com. It has been featured on CNN, ABC, and CBS, and The Wall Street Journal.
For more information, please visit http://www.millionairematch.com/.