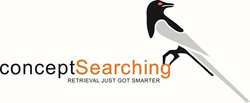 We encourage anyone who is using or will be using SharePoint, Office 365, or OneDrive for Business to share their insight by participating in our survey.
McLean, VA, US and Stevenage, UK (PRWEB) December 03, 2014
Concept Searching, currently the only vendor providing natively integrated enterprise-wide, metadata-driven search, classification and governance solutions for SharePoint on-premise, Office 365, and OneDrive for Business, is pleased to announce its annual metadata survey is now available. The survey, in its third year, is open to the public and specifically targets organizations that currently use or are planning to use SharePoint, either on-premise or online and as part of Office 365, deployed on Azure or another cloud platform, or with OneDrive for Business.
Concept Searching will be accepting survey responses until March 31st, 2015. Individuals who submit a completed response will be entered in a drawing to win a full conference pass to Microsoft Ignite, the premier Microsoft event to be held May 4th – 8th, 2015 at McCormick Place, Chicago, IL. In addition, Concept Searching will be giving away free Bose SoundTrue™ audio headphones monthly. Complete contest rules can be accessed on-line.
In the past, the survey responses have provided valuable insight into information and content management challenges faced by many organizations. Unlike many surveys, the Concept Searching survey receives responses from management as well as business and IT professionals who must solve challenges and craft solutions at a foundational level. The ability to capture the voice of the customer provides a wealth of information on current and future objectives. The survey findings from last year can be accessed here.
A key objective of this year's survey is to capture information on the level of metadata management maturity in organizations. Analysts and statistics support the premise that unstructured content is very rarely managed as a corporate asset. Unstructured content is a source of value but can also work against an organization in litigation or non-compliance issues. Last year's survey indicated overwhelmingly that metadata management was relegated to end user tagging, with essentially no metadata management. Concept Searching is hoping to determine if organizations have become more savvy about information governance and metadata management.
"We are excited to launch our third annual survey," said Martin Garland, President of Concept Searching. "There is a plethora of articles on metadata management and the use of the Microsoft SharePoint on-premise and online platforms. As with the previous surveys, we will be able to capture the sentiment, challenges, and objectives of many organizations. The aggregation of the responses often indicates that the same problems are being faced across the board and we encourage anyone who is using or will be using SharePoint, Office 365, or OneDrive for Business to share their insight by participating in our survey," he concluded.
Follow Concept Searching: http://www.twitter.com/conceptsearch
About Concept Searching
Concept Searching is the industry leader specializing in semantic metadata generation, auto-classification, and taxonomy management. Platform agnostic, Concept Searching also has a Microsoft Gold Application Development competency, and offers a complete suite of SharePoint and Office 365 solutions. The award winning technologies integrated with Concept Searching's Smart Content Framework™ encompass the entire portfolio of unstructured information assets in on-premise, cloud, or hybrid environments. Clients have deployed the intelligent metadata enabled solutions to improve search, records management, identification and protection of privacy data, migration, text analytics, eDiscovery, and enterprise social networking applications.
Concept Searching is headquartered in the US, with offices in the UK, Canada, and South Africa. For more information about Concept Searching's solutions and technologies visit http://www.conceptsearching.com.
All product and company names herein may be trademarks of their respective owners.