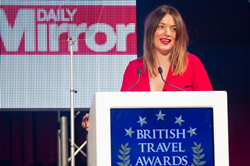 there is a market for premium all inclusive holidays, with hotels offering Michelin star restaurants and accommodation to match
London, England (PRWEB UK) 4 December 2014
Luxury Destinations, the online luxury travel company based in London, has collected the Best All Inclusive Holiday Company at the glamorous 2014 British Travel Awards.
Success at the star-studded awards event held in London's Battersea Park on Wednesday 26th November was a tremendous leap forward for the UK Company with over 1.25 million public votes being counted for what is widely regarded as the travel industry's top awards ceremony.
Amit Patel, the Founder and Managing Director of Luxury Destinations, commented on the win, "We launched Luxury Destinations, with the aim of being the premier tailor-made luxury holiday travel company. The business is going from strength to strength and this British Travel Award emphasises the growth in the customers asking for premium all inclusive hotels around the world. We work with the top hotels in countries such as the Maldives, Dubai & Mauritius who are now beginning to understand that there is a market for premium all inclusive holidays, with hotels offering Michelin star restaurants and accommodation to match, as part of the all-in price."
Lorraine Barnes Burton, the chief executive of the British Travel Awards, said, "This has been a fantastic year for new businesses and existing businesses to shine in the travel industry, and seeing all of the winners granted awards for their specific categories is such a great feeling."
Patel continued, "Winning the Best All Inclusive Company has been a triumph for our business. Not only are we happy to support customers looking for a tailor-made luxury holiday, but we can assist in helping them find the best hotels in the ever-growing luxury destinations throughout the Middle East, Asia and the Indian Ocean."
For more information regarding the British Travel Awards winners, see britishtravelawards.com/winners and to visit the Luxury Destinations website see http://www.luxurydestinations.co.uk