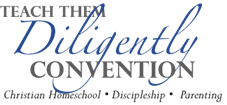 We are excited to bring the message and reputation of Christian Healthcare Ministries to more than 40,000 participants that will attend one of our four 2015 events
GREENVILLE, SC (PRWEB) December 03, 2014
Teach them Diligently, the nation's premier source for events related to Christian homeschooling, discipleship, and parenting, is thrilled to announce its partnership with Christian Healthcare Ministries.
"We are excited to bring the message and reputation of Christian Healthcare Ministries to more than 40,000 participants that will attend one of our four 2015 events," said convention founder David Nunnery. "Partnering with Christian Healthcare Ministries just makes sense. At Teach Them Diligently, we strive to provide the resources needed for all homeschool families, including providing information regarding the health and wellness of those families. In the midst of changes in our nation's healthcare, Christian families are looking for more options than traditional insurance or the healthcare exchanges.
Healthcare coverage and maintaining the family's health and wellness is of great importance to all homeschool families. Christian Healthcare Ministries (CHM) has a number of program options in regards to healthcare coverage and believes that healthcare is best undertaken when members assist each other and share the burden of healthcare. Teach Them Diligently and Christian Healthcare Ministries are partnering to encourage and equip homeschool families to assist each other in regards to healthcare needs.
Christian Healthcare Ministries has helped more than 100,000 people and members have voluntarily shared in paying over $1 billion in healthcare costs. Its mission is "Carry each other's burdens, and in this way you will fulfill the law of Christ" Galatians 6:2." CHM president Reverend Howard Russell states, " Christian Healthcare Ministries is the original health cost sharing ministry and has built its network and membership through great relationships. Our partnership with Teach Them Diligently and their programs will allow us to further spread our belief that families know what is most important when it comes to the cost and quality of healthcare." Christian Healthcare Ministries will be sponsoring the feature sessions of its members David and Jason Benham, who rose to prominence following the canceling of a reality show on HGTV because of their traditional family beliefs.
The Teach Them Diligently convention is sponsored by Worldwide Tentmakers, a missions agency based in Greenville, SC. According to Nunnery, a homeschool father of four, the appeal is in Teach Them Diligently's Biblical focus:
"Homeschooling has grown exponentially in the last decade – both in Christian and non-Christian homes. For families looking to build their children's education on a biblical foundation, Teach Them Diligently is a great place to prepare their academic strategies and meet other folks looking to do the same thing."
The agreement was developed through the efforts of The Kempton Group, a Cincinnati, Ohio based firm that represents Teach Them Diligently in its corporate partnerships and strategic alliances.
More information about Teach Them Diligently is available at http://www.teachthemdiligently.net. The website for Christian Healthcare Ministries is http://www.chministries.org. The Worldwide Tentmakers website is http://www.worldwidetentmakers.com.
ABOUT WORLDWIDE TENTMAKERS: Based in Greenville, S.C., Worldwide Tentmakers has the purpose of helping individuals use their trade and skills with the intention of spreading the Gospel, as Paul did in Acts 18.
ABOUT CHRISTIAN HEALTHCARE MINISTRIES: Christian Healthcare Ministries is an affordable, faith-based solution for Christians to the problems of rising health care costs and expensive health insurance policies. CHM has tens of thousands of Christians united in sharing each other's medical bills. Members of this nonprofit ministry have shared more than $1 billion in healthcare costs.
ABOUT TEACH THEM DILIGENTLY: Teach Them Diligently is a Biblical-based homeschool convention started in 2011. The organizer has a robust online and social network presence and is planning four events in 2015. Those events are:
Nashville, TN Gaylord Opryland March 19-21, 2015
Atlanta, GA Cobb Galleria April 9-11, 2015
Sandusky, OH Kalahari Resort May 28-30, 2015
Dallas, TX Sheraton Downtown July 16-18, 2015