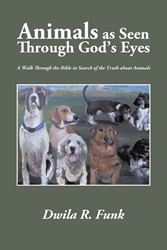 There is a connection between humans and animals, in particular regarding God's treatment and plan
KANSAS CITY (PRWEB) December 04, 2014
Have you ever wondered what happens to you beloved pet when he or she dies?
This question, along with many other questions regarding the spirituality of animals, is discussed in the author Dwila Funk's new book, "Animals as Seen Through God's Eyes: A Walk Through the Bible in Search of the Truth About Animals." Highlighting scripture in the Bible from Genesis to Revelation, the book reveals Funk's research on God's plan for animals, including the place of animals in heaven.
"I've heard from numerous people, including pastors, that animals don't have living souls and don't go to heaven," Funk said. "This troubled me deeply as an animal lover, and I decided I needed to find the answer for myself through the Bible."
Funk is a clinical social worker who has worked with families and youth for several decades. With her more than 25 years of experience paired with a life-long passion for all things animal-related, she is familiar with the bond and the similarities between humans and animals.
"As a clinical social worker, I often witnessed the similarities between humans and animals regarding the devastating effects of abuse and neglect on both," Funk said. "There is a connection between these two groups, in particular regarding God's treatment and plan."
"Animals as Seen Through God's Eyes" details Funk's journey as she searched for an answer as to how God truly sees animals. Funk hopes her work can serve as a resource for others looking to reflect on the connection between the human condition, religion and animals.
For more information, visit bookstore.authorhouse.com.
"Animals as Seen Through God's Eyes"
By: Dwila Funk
ISBN: 978-1-4969-2141-3
Available at Amazon, Barnes & Noble and Author House
About the author
Dwila Funk lives in Peculiar, Missouri, with her six rescue dogs and two parakeets. Funk has served her community's families, youth and school systems as a clinical social worker for the past 27 years.
# # #