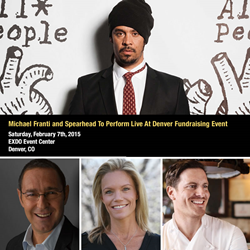 "Today, too many families are dealing with seemingly intractable conditions in their children such as autism, asthma and rheumatoid arthritis," says Beth Lambert
Denver, CO (PRWEB) December 04, 2014
Music sensation Michael Franti and his band Spearhead will headline a one-of-a-kind fundraising event on February 7, 2015 in Denver to support new research into the connection between toxins in food and the environment and the rising tide of chronic illness in America's children—from life-threatening allergies to autism—that until recently were rare in this country.
Best-selling Boulder author Robyn O'Brien, a leading advocate for understanding how the food we eat impacts our health as a nation, will emcee the event. Dr. Frank Lipman, a pioneer in the fields of functional and integrative medicine, will also speak alongside celebrity chef Seamus Mullen, whose personal story of overcoming a debilitating autoimmune disease through diet and exercise offers hope and inspiration to millions suffering from similar challenges.
The new research is part of The Documenting Hope Project, sponsored by Epidemic Answers, a 501c3 non-profit organization. "Today, too many families are dealing with seemingly intractable conditions in their children such as autism, asthma and rheumatoid arthritis," says Beth Lambert, author and children's health advocate, who created Documenting Hope with the goal of exploring healing opportunities often overlooked by conventional medicine. "There is a vast body of anecdotal evidence indicating that individuals with chronic conditions can fully recover. We need to test and document the root causes, rather than the symptoms, of chronic illness."
For this event, Documenting Hope is partnering with Michael Franti's own Do It For The Love Foundation, a global non-profit that brings people living with life-threatening illnesses, children with severe challenges, and wounded veterans to live concerts. "Do It For The Love is working together with our friends at Documenting Hope because we believe we have a common goal of providing hope and healing to those who need it most. Together, we can make a real difference in the lives of our children," said Laura Levesque Page, Executive Director of Do It For The Love.
For details and to register for the event, please visit http://www.documentinghope.com.
DETAILS AND REGISTRATION
http://www.documentinghope.com
Seating is limited
WHEN AND WHERE
Saturday, February 7th, 2015 | 6:00 – 9:30pm
Exdo Center 3500 Walnut Street | Denver, Colorado 80205
TICKET PRICES
(Includes tax-deductible donation, reception, dinner and live performance)

Individual tickets $250.00 each
VIP tickets $500.00 each includes VIP reception with Michael Franti & Spearhead, Dr. Frank Lipman, and Seamus Mullen
Table (10 tickets) $2,500.00 per table includes reserved & priority seating.
VIP Table (10 tickets) $5,000 includes VIP reception with Michael Franti & Spearhead, Dr. Frank Lipman, and Seamus Mullen with reserved & priority seating