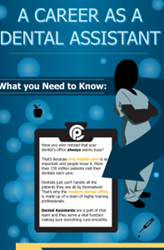 Dental Assistants have considerable direct patient interaction
Rocky Hill, CT (PRWEB) December 03, 2014
Porter and Chester Institute has created a helpful new infographic entitled: "A Career as a Dental Assistant: What You Need to Know." The infographic gives an overview of the profession starting with why there is such demand for dental assistants today. Observing that more than 150 million patients visit their dentists each year, the infographic notes that there were almost 11,000 dental assistants employed in Connecticut and Massachusetts in 2013, alone. According to the U.S. Bureau of Labor Statistics, the profession of dental assistant is predicted to see much faster than average job growth through 2020.
The infographic goes on to describes the traits that dental assistants should possess before entering the profession and the kind of training they should seek in a dental assisting program. It also contains statistics on salaries and describes the various responsibilities dental assistants can expect to find on the job. According to the infographic, dental assistants have considerable direct patient interaction. They help prepare the dental exam area and assist chairside with such procedures as dental exams, restorations, bridge and crown work, root canals, oral surgery and orthodontic work.
In addition to general information about dental assisting, the Infographic describes some of the specific features of the program offered at Porter and Chester Institute. Known for its hands-on approach to education, Porter and Chester Institute's dental assistant program gives students plenty of opportunity to learn-by-doing. In addition to on-campus training, dental assisting students participate in two externships to observe and assist in actual dental facilities.
Porter and Chester Institute has nine locations in Connecticut and Massachusetts and offers 10 different career training programs including the Dental Assisting program which is highlighted in the Infographic.
About Porter and Chester Institute:
Porter and Chester Institute, Inc. is a Connecticut-based postsecondary institution with almost 70 years of experience providing technical, business, and health related occupational preparation. Founded in 1946, the Institute trains more than 3,000 students annually through nine campuses in Connecticut and Massachusetts. Porter and Chester Institute is accredited by the Accrediting Commission of Career Schools and Colleges (ACCSC), is approved by the Connecticut Office of Higher Education, and licensed by the Commonwealth of Massachusetts Division of Professional Licensure, Office of Private Occupational School Education. Porter and Chester Institute uses hands-on education to prepare students for successful technical careers.