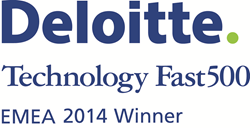 Ranking shows HotDocs' commitment to innovation and pushing the industry forward...
Edinburgh, UK (PRWEB UK) 3 December 2014
HotDocs, a leading provider of automated document generation software headquartered in Edinburgh, today announced that it ranked number 315 on the Deloitte Technology Fast 500 EMEA 2014, a ranking of the 500 fastest growing technology companies in Europe, the Middle East and Africa. Rankings are based on percentage revenue growth over five years.
With 67 companies from the UK making the list, HotDocs is part of a small and dynamic group of successful technology companies who are growing fast in Britain.
Russell Shepherd, CEO at HotDocs, said: "I am pleased to add a ranked position within the Deloitte Technology Fast 500 EMEA to the growing list of awards and accolades we have received over the past few years. Since our 2009 acquisition of HotDocs from a large US corporation, we have worked tirelessly to completely transform the business into what is now a truly global operation, with a brand new range of cloud based services to complement our long established on premise solutions. As well as our UK base, we have multiple US locations, customers in every state in the USA and in over forty countries worldwide. Whilst our growth plans continue apace, inclusion on this list really does underline the success of our efforts to date."
David Halstead, partner, Deloitte UK, and partner-in-charge of the Deloitte Fast 500 EMEA programme commented: "Making the Deloitte Technology Fast 500 EMEA ranking shows HotDocs' commitment to innovation and pushing the industry forward. With its 526% growth rate over five years, HotDocs has proven that its leadership has the vision and determination to grow in a highly competitive market."
HotDocs is widely used within the financial services, publishing and legal industries as the standard for automated document generation and counts global banks, international law firms, worldwide publishers and huge corporations amongst its clients.
Shepherd concluded: "The benefits of automation in the production of sophisticated documentation include risk reduction and aiding compliance, along with huge cost savings and these are now widely recognised within industries like banking, legal and insurance. HotDocs is the market leader for automated document generation and we are seeing increasing adoption of our technology as companies align with their peers to implement our industry-standard software. The growth rate that resulted in our inclusion in the Deloitte Fast 500 EMEA list is a reflection of the successful adoption of HotDocs by many of the world's leading businesses and we look forward to continuing to expand further in the years ahead."
About HotDocs
HotDocs is the market leading provider of automated document generation software, with customers in 42 different countries and a user-base, globally, that exceeds one million end users. Automated document generation, or document assembly, allows a vast reduction in time spent in the production of high volume, repeat documentation such as contracts, agreements and other legal paperwork.
Widely used within the legal, banking, insurance, public and corporate sectors, HotDocs software also increases accuracy, reduces cost/risk and improves efficiency in the generation of complex, or simple, repeat documentation. The software is available on premise, on desktop or via the cloud and can operate in a standalone capacity or as part of a wider business process management system, such as workflow, document management or case management systems.
In recent years, HotDocs has achieved a number of prestigious awards and accolades including being identified as a Gartner "Cool Vendor" 2014, named as one of CIO Review's 20 Most Promising Compliance Tech Solution Providers 2014, winning International Business of the Year at the Scottish Business Awards and winning a Queen's Award for Enterprise in International Trade in 2013.
About Deloitte Technology Fast 500™ EMEA
The Deloitte Technology Fast 500 EMEA programme is the region's most objective industry-ranking to focus on the technology field, recognising technology companies that have achieved the fastest rates of revenue growth in Europe, the Middle East, and Africa (EMEA) during the past five years. Combining technological innovation, entrepreneurship and rapid growth, Fast 500 companies – large, small, public and private – span a variety of industry sectors, and are leaders in hardware, software, telecom, semiconductors, internet, media, life sciences and emerging areas, such as clean technology.
The programme is supported by the Deloitte Technology Fast 50 initiatives, which rank high growth technology companies by location or specifically defined geographic area and is run by the Deloitte Touche Tohmatsu Limited's Technology, Media & Telecommunications (TMT) global industry group. Co-sponsors include Fidelity Growth Partners Europe, a venture and growth capital investor which backs entrepreneurs with aspiration for greatness in the IT and clean technology sectors across Europe, Silicon Valley Bank, the premier bank for technology, life science, private equity and premium wine businesses and Taylor Wessing, a leading International law firm with a focus on the industries of tomorrow. More information on the programme and prior year winners is available on http://www.deloitte.com/fast500emea.
About Deloitte
In this press release Deloitte refers to one or more of Deloitte Touche Tohmatsu Limited, a UK private company limited by guarantee ("DTTL"), its network of member firms, and their related entities. DTTL and each of its member firms are legally separate and independent entities. DTTL (also referred to as "Deloitte Global") does not provide services to clients. Please see http://www.deloitte.com/about for a more detailed description of DTTL and its member firms.
Deloitte provides audit, consulting, financial advisory, risk management, tax, and related services to public and private clients spanning multiple industries. With a globally connected network of member firms in more than 150 countries and territories, Deloitte brings world-class capabilities and high-quality service to clients, delivering the insights they need to address their most complex business challenges. Deloitte's more than 210,000 professionals are committed to becoming the standard of excellence.
The information contained in this press release is correct at the time of going to press.