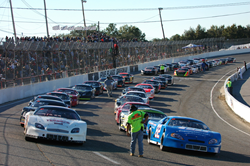 Pensacola, Florida (PRWEB) December 03, 2014
Big names in NASCAR racing and a host of competitive hopefuls are gearing up to compete this Sunday in the 47th Annual Snowball Derby at the Five Flags Speedway in Pensacola, Florida.
In the short track racing world, the Snowball Derby is known as the nation's most prestigious race: a 300-lap Super Late Model race featuring some of the best short track drivers in the country.
70 drivers are headed to Pensacola now, including 2014 NASCAR Nationwide Series Champion Chase Elliott and two-time, defending Snowball Derby Champion Erik Jones, who drives for Kyle Busch Motorsports. Jones is also the winner of this year's NASCAR World Truck Series. Local favorite Johanna Long will be competing once again alongside a few other names you may recognize. John Hunter Nemecheck and Ross Kenseth, one of Super Late Model racing's biggest stars, are both following in the footsteps of their famous fathers, NASCAR drivers Joe Nemecheck and Matt Kenseth. Many will enter, but only 36 drivers will make the cut.
"The Snowball Derby is very competitive. Drivers and their teams put so much emphasis on it and build new cars for the race. They want to bring the best cars they have here because the competition is that tough," says Tim Bryant, Five Flags Speedway General Manager.
Drivers don't just worry about how their cars run, but they're also working on how their cars look.
"They get creative with their cars because fans can vote for their favorites. We've seen some sharp looking ones already, including one wrapped with a snowman under palm trees. I hear that Ross Kenseth plans to debut an "ugly sweater" car this year," adds Bryant.
Qualifying for the Snowball Derby race takes place on Friday night, but teams begin unloading and checking in on Wednesday, December 3, for a series of races that lead up to the Sunday afternoon flagship event at 2:00 p.m.
Bryant says the speedway expects to host close to 30-thousand fans over the course of the next four days and more than 10,000 for the Snowball Derby on Sunday. Ticket sales have been at an all time high, as has the interest in a live video broadcast this year. Speed51.com, a nationally acclaimed Charlotte, North Carolina based website, will be broadcasting online-pay per view Internet streaming of the race.
"Those folks in Wisconsin and Michigan and other parts of the country who have local drivers here but can't make the trip will now have the chance to watch the Derby live," says Bryant.
Tickets are still available for the Snowball Derby. Reserved seating tickets are $45.00 and general admission tickets are $40.00. Gates open Sunday at 9:00 a.m. with pre-racing festivities beginning at noon. For more information, please visit http://www.5flagsspeedway.com.
For more information on accommodations or lodging for the Snowball Derby, call Visit Pensacola at (800) 874-1234 or visit http://www.visitpensacola.com..
#
About Visit Pensacola
Visit Pensacola leads the effort of economic development through tourism in Escambia County. Comprised of over 200 member businesses, Visit Pensacola's mission is to position the Pensacola Bay Area as a premier year-round travel destination through tourism marketing, communications, meetings and conventions, reunions and group tour initiatives.
##