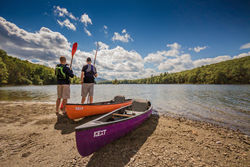 Old Town, Maine (PRWEB) December 03, 2014
Old Town Canoes & Kayaks, a brand steeped in craftsmanship, innovation and tradition, has announced that their new canoe/kayak hybrid the NEXT, has won the "Gear Of The Year" award from 50 Campfires, The Camping Authority.
The Old Town NEXT is a light, single-seat, solo watercraft that integrates Old Town's top canoe and kayak features from their 100+ years of paddlesport experience. It's ideal for both single- and double-bladed paddles, with a low profile and pronounced tumblehome for easy, natural paddling. The NEXT 3-layer hull, renowned for its performance and durability, has a subtle rocker for straight, smooth tracking. It also features Old Town's removable Element™ seating system for all-day comfort and performance.
50 Campfires is a leading resource within the outdoor industry for camping recipes, camp tips, gear reviews, locations and more. They will dedicate a full page to the Old Town NEXT in an upcoming edition of their digital magazine, as well as an editorial on why 50 Campfires believes the canoe-kayak hybrid deserved the award.
According to designers at Old Town, they developed the NEXT to meet the needs of a new generation of outdoor adventure and fitness enthusiasts who are interested in easy, fun and personal experiences on the water.
The announcement from 50 Campfires will coincide with their release of the annual
50 Campfires Magazine: Gear Of The Year edition on Monday, December 1, 2014.
Learn more at http://www.paddlenext.com and http://www.oldtowncanoe.com.
Old Town® is part of the JOHNSON OUTDOORS family of brands.
JOHNSON OUTDOORS is a leading global outdoor recreation company that turns ideas into adventure with innovative, top-quality products. The company designs, manufactures and markets a portfolio of winning, consumer-preferred brands across four categories: Watercraft, Marine Electronics, Diving and Outdoor Gear. Johnson Outdoors' familiar brands include, among others: Old Town® Canoes and Kayaks; Ocean Kayak™ and Necky® Kayaks; Carlisle® Paddles; Extrasport® Personal Flotation Devices; Minn Kota® Motors; Cannon® Downriggers; Humminbird® Marine Electronics; LakeMaster® Electronic Charts; SCUBAPRO® and SUBGEAR® Dive Equipment; Silva® Compasses; Jetboil® Outdoor Cooking Systems; and Eureka!® Camping and Hiking Equipment.
Visit Johnson Outdoors at http://www.johnsonoutdoors.com
###