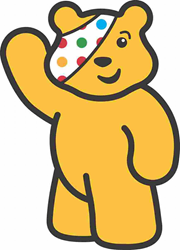 Stirling, Scotland (PRWEB UK) 4 December 2014
Donating to BBC's Children in Need and Pudsey bear has become a tradition at Labels4Kids. Though the staff of the online retailer stopped short of covering the Beach Boy's God Only Knows, like BBC did to raise money this year, they still wanted to do their share.
Special Pudsey stickers were designed and printed at the HQ to go on envelopes of all the customers who have helped raise money. It's fair to say everyone pitched in: Labels4Kids decided to donate 50p off every order to the charity. A total of £120 was raised.
Being a business so essentially close to children and children's needs, Labels4Kids wants to show their customers they care. Along with BBC's Children in Need, the company also has a long history of participating in Comic Relief's Red Nose Day in March. Comic Relief is another well-known charity which donates money to different causes striving to improve living standards and working towards a world free of poverty.
Labels4Kids is excited to announce they will have an exciting project to support this particular cause as well come March 2015.
Stay tuned to find out more. You can connect with us on Facebook and Twitter, which are the best networks to follow us in our day-to-day activities, to find out about our support for charities and to participate if you want!
We are also open to exploring other charities or fundraising activities. If you want to introduce yourself and your project (in the realm of children and children's welfare) to us, just get in touch at sales(at)labels4Kids(dot)com.
If you want to learn more about Labels4Kids, personalised name labels, our selection of vinyl stickers and our exciting new range of gift products perfect for Christmas time, visit us at http://www.labels4kids.com.