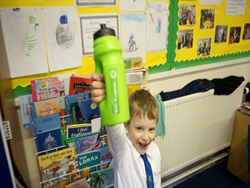 Geared towards ease-of-use and a high commission of 20% for schools, Labels4Kids expects a big sign up for their new bulk fundraising system.
Stirling, Scotland (PRWEB UK) 15 December 2014
Designed to give both parents and schools more choice and flexibility, the 'bulk fundraising' system, as Labels4Kids has decided to call it, has gone live and will function around the simple principle of the schools filling in a highly customised Excel spreadsheet.
Schools can launch their fundraising by making parents aware of the new system by distributing newly designed flyers and hanging up posters which are both available on request by simple contacting Labels4Kids via sales(at)labels4kids(dot)com.
Participating parents' details will be collected and kept by the school. Parents can communicate to the school which Labels4Kids products they want to purchase by Excel spreadsheet or by filling in a paper form. Labels4Kids will be offering the most popular labels best suited for school labelling purposes for this new system.
Schools will send off all orders at once, calculate their total and collect the payment keeping 20% off the grand total owed as a commission right away. Labels4Kids fulfils the order by sending everything at once, and the schools distribute the products themselves according to orders in the final step.
The system is based around convenience for parents, who only have to fill in a form or an Excel spreadsheet. It is also based on real and direct results for schools, which get to keep 20% commission right away upon sending a batch of orders.
To read more about the new system, go to our overview page. To sign up for a trial or more information, email our team on sales(at)labels4kids(dot)com. Request posters and flyers to help with fundraising via email as well.
The online fundraising system is of course still available. The familiar system of 10% off for parents (by entering the code 'pass' in the voucher field at the checkout) and 10% commission for schools is, and will stay, active as usual.
With the new funraising system in place, Labels4Kids will continue to give a flexible and effective system of raising money for schools, nurseries and (sports) clubs.
Find the Labels4Kids homepage at http://www.labels4kids.com.