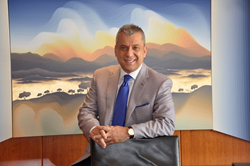 (PRWEB) December 04, 2014
PEOPLECERT's Chairman and CEO, Byron Nicolaides, has been elected President of the Council of European Professional Informatics Societies (CEPIS), the representative body of national informatics associations throughout greater Europe, at the Execom Elections that took place during the 53rd CEPIS Council meeting in Brussels, Belgium, on 27 November. Byron, currently CEPIS Honorary Treasurer since the previous term, will assume his new duties as CEPIS President in 2015.
Established in 1989, CEPIS aims to promote the development of IT Skills in Europe and has grown to represent over 300,000 ICT and informatics professionals in 32 countries. CEPIS' mission and goals include raising the profile and promoting the views of European informatics societies and professionals within the European Institutions and promoting the development of digital literacy, skills, education & research and professionalism. CEPIS is also responsible for the highly successful ECDL and EUCIP programmes and produces a range of research and publications in the area of skills.
The latest election is a great recognition of PEOPLECERT's Chairman contribution to the industry. It comes to reinforce the organization's commitment to the goals of CEPIS and its active involvement in initiatives that promote the development of IT skills across Europe. "Considering the impact of informatics in the current and future economic environment, we endeavor to equip IT professionals with the necessary skills to bridge the gap between supply and demand for certified e-skills, aiming to decrease unemployment in Europe," says Nicolaides.
Byron is the founder of PEOPLECERT, a leading certification body, currently offering services to governmental and corporate organizations in over 130 countries, including Bank of America, DELL, EMC, IBM, NASA, the European Central Bank, the European Parliament and many more. He is also Board member of the ECDL Foundation, Vice President of HEPIS (Hellenic Professionals' Informatics Society) and Fellow of BCS.

About PEOPLECERT
Delivering millions of exams across the world, PEOPLECERT offers globally recognized certifications in 24 languages. Through flexible and secure examination systems, PEOPLECERT also offers a suite of online services that further simplify the exam experience, including web proctored exams, online exam booking, e-certificates and online certificate verification.