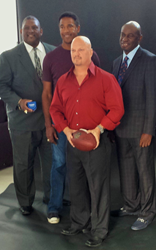 Oral Appliance Therapy constitutes the fastest growing market at a projected growth of 19.0% from 2013-2018
Phoenix, AZ (PRWEB) December 04, 2014
In recent years, David Gergen President of Pro Player Health Alliance (PPHA), has lead the push for sleep apnea awareness nationwide and raised the bar for the industry. Through free community awareness events, health evaluations and partnerships with organizations such as the American Sleep and Breathing Academy Dental Division (ASBA), Living Heart Foundation and RemZzzs CPAP mask liners he has been able to reach thousands of people in need of treatment of CPAP and/or Oral Appliance Therapy for obstructive sleep apnea(OSA). Now Pro Player Health Alliance is looking for providers nationwide to team up with and help sufferers of obstructive sleep apnea get treated. Education and support can come from the ASBA Dental and patient outreach through PPHA, making it an unbeatable program that sees the patient winning every time.
The Global Sleep Apnea Therapeutic Devices Market which is mostly in part supported by the PAP industry and oral appliances worldwide, was valued at $7.0 billion in 2013 and is expected to reach $15.3 billion by 2018. With that being said, Oral Appliance Therapy constitutes the fastest growing market at a projected growth of 19.0% from 2013-2018. With this projected growth, Pro Player Health Alliance is looking to grow a network of doctors across America to accommodate the overwhelming need to treat patients for the disorder.
Sleep & Wellness 2015: A Conference for Healthcare Professionals is a partnership between ASBA Dental and The American Sleep & Breathing Academy. If a dentist is just beginning or has been treating their patients for obstructive sleep apnea for years, this will turn out to be the most worthwhile seminar of the year. Two main sponsors of the event will feature Gergen's Orthodontic Lab and Pro Player Health Alliance and all dentists are welcome to attend. For more information email sfaulkner(at)proplayersleep(dot)com or visit http://asbadental.com. For more information on Pro Player Health Alliance visit http://proplayersleep.com
Statistics cited from micromarketmonitor.com
About Pro Player Health Alliance
Pro Player Health Alliance (PPHA) is an organization dedicated to helping former NFL players, through providing testing and treatment options for those who suffer from sleep apnea. In addition, the PPHA is dedicated to integrating education and raising sleep apnea awareness, in a fun and memorable way. In addition to the campaign, the PPHA is dedicated to testing and getting people treated who suffer from sleep apnea. This has been stepped up by working though The Living Heart Foundation and its HOPE program sponsored by the NFLPA. The PPHA was created David Gergen, President of Gergen's Orthodontic Laboratories and Former NFL legends.
About David Gergen
David Gergen, CDT and President of Pro Player Health Alliance, has been a nationally respected dental lab technician for over 25 years. He received the award for "The Finest Orthodontic Technician in the Country" given by Columbus Dental in 1986. He also has been appointed Executive Director of the American Sleep and Breathing Academy Dental Division, a national interdisciplinary academy dedicated to sleep training and education with over 60,000 members. David rolled out of bed on December 4, 1982 and had his career "ah ha" moment. He knew he was going to be an orthodontic technician and he knew he was going to help people all over the country to help treat their sleep disorders in partnership with their dentists. He has worked for some of the pioneers in the orthodontic and sleep dentistry fields. He was the personal technician for the likes of Dr. Robert Ricketts, Dr. Ronald Roth, Dr. A. Paul Serrano, Dr. Clark Jones, Dr. Harold Gelb, Dr. Joseph R. Cohen, Dr. Rodney Willey, Dr. Allan Bernstein, and Dr. Thien Pham. One of his proudest achievements is receiving The National Leadership award for Arizona Small Businessman of the Year in 2004