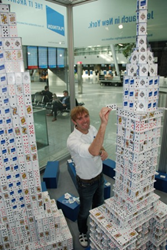 More than 270 pounds of cards in the shapes of the Empire State, Chrysler, and Flatiron Buildings, Rockefeller Center, Yankee Stadium, and many other of New York City's iconic buildings and landmarks.
Düsseldorf, Germany (PRWEB) December 03, 2014
Travelers at Düsseldorf Airport (DUS) can easily get to the New York skyline on one of the many direct flights to New York City from Germany's third largest airport, but now, until the end of February 2015, they can also see the skyline inside the airport's terminal building. American master card stacker Bryan Berg recreated the beloved US city's skyline at DUS from more than 103,000 playing cards, which brings a piece of New York City to everyone who passes through the terminal building.
It took Berg, who is a Guinness World Record holder in card stacking, 14 days to stack more than 270 pounds of cards into the shapes of the Empire State, Chrysler, and Flatiron Buildings, Rockefeller Center, Yankee Stadium, and many other of New York City's iconic buildings and landmarks – even the Statue of Liberty. The Empire State Building alone consists of 19,440 playing cards and weighs about 50 pounds. The tallest of all of the buildings in Berg's card city is an almost 10-foot replica of the new Freedom Tower built on the site of the former World Trade Center.
Berg used no glue or other tools in his card stacking masterpiece, which sits inside a large glass cube of more than 320 square feet. Passengers and visitors were able to watch Berg stacking the cards , and the skyline remains on display until the end of February 2014.
Please find more airport information at w ww.dus.com, or call the airport hotline at +49-(0)211-50 000.
In League with New York, London, Paris and More
Adding to Düsseldorf's appeal, several North American cities (Atlanta, Chicago, Ft. Myers, Los Angeles, Miami, New York, Newark) offer non-stop flights. Passengers who continue their journeys can choose from numerous convenient connections to Berlin, Munich, Frankfurt, Hamburg and many other German and European cities. Throughout the year, 60 airlines serve 180 destinations worldwide – among them 125 European destinations. Another major advantage of the airport is its layout. With all gates in one terminal building, Düsseldorf Airport is the "airport of short distances" – guaranteeing minimum connection times of 35 minutes.
The airport is at the center of the Rhine Ruhr area, a bustling network of 53 connected cities and 18 million residents within 40 miles. It is the EU's third largest market in volume and spending and equal to major metropolitan regions like New York, London and Paris. 500,000 companies are located in the area, including 5,000 offices of foreign corporations, the majority from the Netherlands, Japan and the USA. Many major international industry players, including Fujifilm Europe, Nokia Siemens, Novell, Ericsson, Deloitte & Touche, McKinsey, and Toshiba, are headquartered in Düsseldorf, which is a first-rate location for high-tech concerns. International presence and fast accessibility – guaranteed by DUS being one of Germany's major hubs – make the location highly attractive.
Düsseldorf and North Rhine-Westphalia, ranked 17 in GDP among the world's major industrial centers, are also home to some of the most significant exhibitions and trade shows in the world. Of the 50 annual events at Düsseldorf's Exhibition Center, 23 lead their industry worldwide, for example, printing technology ("drupa"), plastics and rubber ("K"), medicine ("MEDICA" and "REHACARE INTERNATIONAL"), leisure time ("boot") or packaging ("interpack"). For more information on Düsseldorf Airport, visit http://www.dus.com.
###
Düsseldorf Tourism & Marketing GmbH is the visitors and convention bureau of the city of Düsseldorf. Its services include tourism and city marketing, conference and meeting marketing, hotel reservation services, fairs and convention services, city event ticket sales and advance ticket reservations. For more information, visit http://www.visitduesseldorf.de.