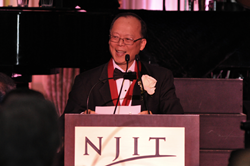 Newark, N.J. (PRWEB) December 03, 2014
New Jersey Institute of Technology (NJIT) awarded the Edward F. Weston Medal for Professional Achievement to Paul Eng-Wong of South Orange at Celebration 2014, the university's annual black-tie benefit dinner, on November 14, 2014 at the Pleasantdale Chateau, West Orange. The Weston Medal is presented to alumni in recognition of outstanding personal, professional, and civic achievement and commitment to the development of the university.
Entertainment was provided by Bernadette Peters, one of Broadway's brightest stars. Proceeds from the sold-out event will be used toward endowed scholarships for students at NJIT. Since 1995, many of the university's most generous supporters have gathered annually for Celebration, a black-tie affair that has raised more than $4.6 million in scholarship endowment funds for students at NJIT. A festive evening featuring dinner and live entertainment, Celebration also honors individuals for achievements beneficial to the state and our nation, as well as organizations exceptional for their commitment to NJIT's mission. This year marked the 20th anniversary of the event, which featured a "Roaring Twenties" theme.
The event was chaired by Robert Medina, Senior Vice President and East District Director of T.Y. Lin International. Medina is a 1975 graduate of NJIT, and serves on the university's Board of Overseers.
Eng-Wong is a professional engineer and principal in the Newark office of Vanasse Hangen Brustlin, Inc., a premier consulting firm of 1,000 planners, engineers, designers, and scientists. He is a former International President of the Institute of Transportation Engineers and former President of the International Chinese Transportation Professionals Association's Northeastern Chapter. He is an active member of the Newark Regional Business Partnership's Transportation Council, and has volunteered for numerous other committees and councils in the transportation industry.
In 2009, NJIT presented Eng-Wong with the Alumni Achievement Award for "his acknowledged entrepreneurial leadership in the field of transportation projects, and his continuing service to both the engineering profession and to the greater Newark community." He has also received awards and honors from the Institute of Transportation Engineers, including the Ivor S. Wisepart Transportation Engineer Award and the Distinguished Service Award. He is a frequent speaker and presenter on the topic of career growth and development, and recently presented "Ethics and Leadership Development" and "Ethics, Mentoring and Effective Communication" on behalf of the Institute of Transportation Engineers.
For more information, visit the Celebration 2014 website: http://www.njit.edu/celebration/2014/