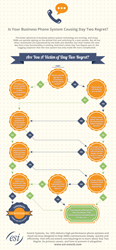 All too often, businesses are hypnotized by flashy new technology and make purchases based on the bells and whistles.
Plano, Texas (PRWEB) December 04, 2014
ESI, the innovative designer and manufacturer of high-performance business phone systems and cloud services, today shared insight on the prevalence of the "Day Two Regret" phenomenon among growing businesses. While innovation in business communication technology continues to accelerate, tremendous growth has led to bloated products that don't often support existing business processes.
"All too often, businesses are hypnotized by flashy new technology and make purchases based on the bells and whistles," said George Platt, ESI's chief executive officer. "Whether it's computers, office chairs or phone systems, we easily overlook how employees actually use the product. It isn't until they're in place that we realize key functionality is missing, and that's when Day Two Regret sets in: the nagging suspicion that the new system has only made life more complicated, not easier."
The Road to Day Two Regret
In order to close a deal, technology sales teams often highlight a myriad of innovative features but fail to take the unique requirements of a company into consideration. On the other end, companies take existing features and processes for granted during the buying process, also failing to consider their unique business needs.
With the goal of boosting team productivity and efficiency, companies sign on the dotted line for a phone system that offers video, desktop collaboration, and a next generation desk phone. However leadership is quickly met with opposition when the new system starts rolling out.
What Does Day Two Regret Look Like?
With any technology change, there is going to be resistance, but Day Two Regret is more than that. After employees begin using the new system in daily operations, they notice that key features that they previously relied on are no longer available.
"The most obvious symptom of Day Two Regret is the realization that you can't easily use a desk phone's most common features, such as seeing if a coworker is on the phone, changing speed dial, recording a call or setting a do-not-disturb indicator," said Platt.
These omissions quickly cause dissatisfaction among workers forced to change their routines overnight. Unfortunately, these issues will crop up only after the service is rolled out, because the actual power users of the phone system were not consulted about the decision.
A prime example of Day Two Regret is a dentist in business for 25 years. He had been won over by a pitch from a business phone vendor who said he specialized in dental offices. But after the new phones were installed, the receptionist immediately noticed she couldn't figure out when the dentist was on the phone, as there was no light on her phone indicating his status. A simple requirement overlooked, however critical to business operations.
Inevitably this Day Two Regret can disrupt business practices, creating frustration throughout the day and potentially costing a company customers and critical relationships with vendors and suppliers.
"When a product lacks vital features as simple as a hold button, this causes businesses to change daily routines, schedules, and processes to fit the way the phone system works – instead of the phone enhancing their existing processes," said Platt.
The Cure for Day Two Regret
When purchasing a new business phone system, preventing Day Two Regret is imperative. Communication is a vital aspect of all businesses, and if employees can't figure out how to transfer calls, put people on hold and do other basic tasks they took for granted in their old systems, it hinders productivity and workflow.
"Day Two Regret can be avoided, but it takes proper planning. By evaluating existing business processes and consulting with heavy users of the system, a company can look past the bells and whistles and make a more informed decision based on its business requirements," said Platt.
To explore this topic in more depth, ESI created a free eBook and infographic on the top causes of Day Two Regret, and how to avoid it altogether.
About ESI
Estech Systems, Inc. (ESI) delivers high-performance phone systems and cloud services designed for businesses and organizations. A premier provider of cloud- and premise-based unified communications solutions, ESI offers uniquely innovative and integrated systems that enable its channel partners to deliver differentiated, intuitive and affordable VoIP communications. Founded in 1987, ESI has sold more than 300,000 business communications systems through hundreds of certified resellers. ESI is a privately held corporation with headquarters in Plano, Texas. For more information about ESI and its products, visit http://www.esi-estech.com.