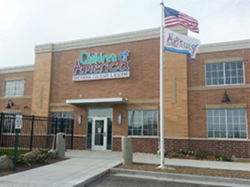 "We go the extra mile when developing our programming," said Jim Perretty, President of Children of America.
New Berlin, WI (PRWEB) December 04, 2014
Children of America will open its New Berlin facility at 15255 W National Ave., New Berlin, WI 53151 Saturday December 13, 10a.m.-2pm. bringing a preferred childcare experience at an affordable price for families of Waukesha county. This will make the fourth facility in the Milwaukee area.
"We go the extra mile when developing our programming," said Jim Perretty, President of Children of America. "Programs such as, the "Bentley" book series, an original series written from the schools dog mascot point of view, a nutrition program with licensed nutritionist, with helpful eating tips and menus, athletic programs for youngsters and daily electronic reporting via email for parents."
"Parents love our programming," says Perretty, "And the children are captivated. Our job is to establish programming that inspires children, informs parents and builds a solid educational foundation."
Perretty explained that the early years in a child's life are critical for developing a foundation for learning and personal growth. "Our unique environment and highly qualified staff offer innovative, creative solutions to help children grow during these formative years, all for a price families can afford" Perretty added.
Programs at COA are designed to meet the specific developmental needs of each age group, such as, infants, toddlers, Pre-K and preschoolers and their educational curriculum is designed to spark imagination and encourage exploration and discovery through active learning.
The Grand Opening event will feature games and refreshments for the whole family with special enrollment offers. Tours will be available during the event.
COA ADVANTAGES

Daily electronic reporting
Balanced meals and healthy snacks provided
Internet-based monitoring for parents
Transportation for school-age children
Part-time childcare available
SCHOOL INFORMATION
New Berlin
262-806-7104
15255 W National Ave.
New Berlin, WI 53151
WAUKESHA COUNTY
SCHOOL SUMMARY: Ages: 6 Weeks - 12 Years Old
Open: Monday - Friday Hours: 6:00 a.m. - 6:30 p.m.
AGE-GROUP/PROGRAMS OFFERED

Infant Programs
Toddler Programs
Preschool
Pre-K
Kindergarten Programs (Not available at every location)
School Age Programs
Summer Camps Programs
About Children of America Educational Childcare & Academy
Founded in 1997, Florida-based Children of America is a leading provider of high-quality childcare and after-school programs. With over 1,500 employees, the firm operates nearly 70 schools in Delaware, Illinois, Indiana, Maryland, Massachusetts, New Jersey, New York, North Carolina, Ohio, Pennsylvania, Virginia and Wisconsin. An industry pioneer, Children of America is a subsidiary of World Wide Child Care Corp. Visit our website for more information or interact with COA on Twitter and Facebook.
Contact: Jim Perretty
561-900-0710