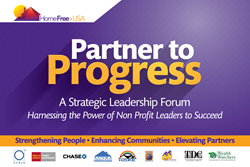 Opportunity is missed by most people because it's dressed in overalls and looks like work.
Miami, Florida (PRWEB) December 05, 2014
Receive unprecedented peer-to-peer interaction opportunities, and get the insight needed to reinvigorate business while increasing revenues. Learn successful approaches and strategies to maximize all business opportunities.
Keynote speaker Paul Andrew knows what it takes to raise agencies to the next level. He explains the 5 steps every leader must do to become successful. He has helped thousands overcome their challenges while building profitable businesses... And he can help you too.
This event brings together the best of housing and counseling leadership, lenders and servicers, and policy makers... All in one place at the same time!
EVENT LOCATION | The James Royal Palm located at 1545 Collins Avenue, Miami Beach, Florida. From 8:30 AM to 3:00 PM Monday, December 8, 2014 | Lunch while you learn... It's FREE! | Hotel valet parking free for the first 75 cars made possible by: NuWorld Title
Register at http://www.HomeFreeUSA.org/SLF or call 301-891-4604. For local information call REACH counselors at 855-48-REACH