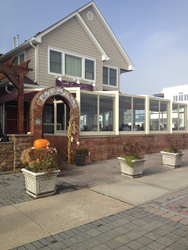 Belmar, New Jersey (PRWEB) December 03, 2014
Visit La Dolce Vita in Belmar, New Jersey for authentic Italian cooking served by Sicilian born Guiseppe Salpietro and his nephew Nicola Fuccilli. Perched in a quiet area overlooking the ocean, the duo utilized their experience in the restaurant industry to create the English translation "The Sweet Life."
Before becoming business partners, Fuccilli grew up working for his uncle as a bus boy in his restaurant. Passing down the torch, Fuccilli opened a pizza parlor in Belmar, New Jersey in 1999 while Salpietro ran his restaurant in Brick, New Jersey. In June 2006, Fuccili recruited recently retired Salpietro and they opened La Dolce Vita. "We tried to make the restaurant more of a destination place," said Fuccilli. "The area used to be dead after 5:00 pm so we wanted to bring life in the area."
Guests can enjoy a fine dining experience at La Dolce Vita, or visit their newest addition, La Terrazza located next door. "In the summertime we wanted to make something more casual," said Fuccilli. La Terrazza offers an outdoor bar area during the summer months for beach goers as well as indoor seating serving pizza and other Italian dishes. "We are all one corporation with two separate brands," said Fuccilli.
With a combined 40 years of experience between Fuccilli and Salpietro, both bring different qualities to the table. "I definitely learned the fine dining aspect from my uncle," said Fucilli. "We are both very hands-on with all aspects of the restaurant." Fuccilli is also a frequent traveler and he incorporates much of what he sees into the restaurant. "I love to travel so when I see things that I like, I bring it back to the restaurant," said Fuccilli.
Unlike some other restaurants along the oceanfront, many of the customers that dine at La Dolce Vita are not just seasonal patrons. "We see the same faces year after year," said Fuccilli. "About 60-70% of our customers in the summertime are regulars. "The summer reinvents us every year." Visitors can delight in an alcoholic beverages at the fully stocked bar open from May 1st until November 14th (due to their seasonal liquor license only). On November 15th guests are encouraged to bring their own wine and beer.
La Dolce Vita and La Terrazza are open from Sunday through Thursday 11:00 am to 10:00 pm. Doors close at 11:00 pm on weekends. Party packages are available for small or large events. The restaurant can accommodate 60 guests in the indoor dining area and 50 guests on the heated outdoor patio open all year round. Patrons are invited to celebrate Customer Appreciation Day on November 14th offering half price on their bar menu and alcohol to close out the summer season. To view their menu or make a reservation, visit their website at http://www.belmarrestaurant.com/ or call 732.749.3177.
About Bielat Santore & Company
Bielat Santore & Company is an established commercial real estate firm. The company's expertise lies chiefly within the restaurant and hospitality industry, specializing in the sale of restaurants and other food and beverage real estate businesses. Since 1978, the principals of Bielat Santore & Company, Barry Bielat and Richard Santore, have sold more restaurants and similar type properties in New Jersey than any other real estate company. Furthermore, the firm has secured in excess of $500,000,000 in financing to facilitate these transactions. Visit the company's website, http://www.123bsc.com for the latest in new listings, property searches, available land, market data, financing trends, RSS feeds, press releases and more.