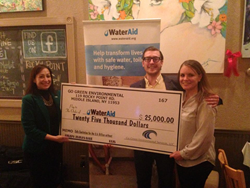 Clean water and clean, safe sanitation is a human right, and Go Green Environmental Services wants to do our part to make this a reality.
Rocky Point, NY (PRWEB) December 04, 2014
To improve access to safe water, toilets and hygiene education in 26 countries across Africa, Asia, Central America and the Pacific region, Go Green Environmental Services, headquartered in Shoreham (NY), hosted a party on December 2, 2014 at Caruso's Restaurant in Rocky Point, and presented WaterAid, an international non-profit, with a $25,000 donation. Party attendees donated an additional $2,500.
"Clean water and clean, safe sanitation is a human right, and Go Green Environmental Services LLC wants to do our part to make this a reality," said Erin Hunt, Senior Vice President.
This event represents the company's ongoing commitment to WaterAid, an organization that helps the world's poorest people gain access to safe water and sanitation. On World Toilet Day, November 19th, Go Green Environmental Services pledged $100,000 to the nonprofit.
According to WaterAid, nearly 750 million people live without safe drinking water worldwide, while 2.5 billion have nowhere safe and clean to go to the toilet.
"As a company that strives to do the right thing for our customers, employees, and local community, it was only fitting to partner with an organization that cares about doing the right thing for our global community. Go Green Environmental Services LLC is proud to contribute to bringing clean water and safe sanitation to the 2.5 billion worldwide without it through our partnership with WaterAid America," Hunt said.
WaterAid's Associate Director of Corporate Partnerships, Jennifer Colletti Membreno said, "WaterAid America is proud to partner with a local New York based environmental services company like Go Green Environmental. This company has demonstrated the true meaning of partnership by not only making a significant pledge, but by helping to raise awareness of the water, sanitation, and hygiene that exists globally amongst our local residents."
Over the next 12 months and beyond, Go Green Environmental Services LLC plans to continue its efforts to increase awareness and raise money for WaterAid and other environmental causes.
The company's corporate website is http://www.gogreenli.com. Information about their environment-friendly residential cesspool and septic services is available at http://www.fullcesspoolplumbingservice.com
----------------------------------------------------------------------------------------------------------------------------------
About Go Green Environmental Services and Why They Have Chosen to Support WaterAid
----------------------------------------------------------------------------------------------------------------------------------
Many years ago, Ken Daly, Chief Executive Officer, left the insurance business to form Go Green Environmental in response to the water crisis on Long Island and its potential correlation to Long Island breast cancer rates.
Daly's mother—grandmother to Erin Hunt and Terence Daly, both officers at the company—was diagnosed with breast cancer and had a mastectomy. At the 5 year checkup, the cancer was found in her other breast and again required surgery.
She is a proud survivor, but in the aftermath, many studies linked the contamination of Long Island's aquifers to the extremely startling breast cancer rate. Thus Daly was called to action.
Over the years, Go Green Environmental has been dedicated to "protecting our future" with "responsible wastewater management." As a family run business by Long Islanders, this is important to them.
Mr. Daly said, "For a long time, Go Green has given to various charities in a scattered way. We've long talked about finding the right charity to contribute in a more cohesive and consistent way."