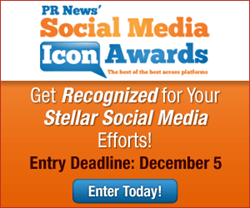 New York, NY (PRWEB) December 05, 2014
PR News' Social Media Icon Awards recognizes outstanding social media campaigns across all platforms and the creative individuals driving these stellar efforts. This awards program is open to organizations worldwide, large and small. The entry deadline for this program is today, December 5, 2014 at midnight ET and winners along with honorable mentions will be celebrated in spring 2015 at an awards luncheon. If you cannot make the entry deadline, the final deadline for the program is Friday, December 12, 2014.
For more information on the Social Media Icon Awards, visit http://www.prnewsonline.com/SMIA2014.
The Social Media Icon Awards are divided into platform categories: Facebook, Twitter, Pinterest, LinkedIn, Instagram, Tumblr, YouTube, Google+, and others. PR News will also honor the individuals that represent these top social platforms through the category of Best Social Media Team. Public relations and marketing professionals who pinned, tweeted, hashtagged and posted their way to the top are invited to enter this annual program.
Past winners of the Social Media Icon Awards include companies such as MasterCard, Peppercomm, Walt Disney World Resort, National Wildlife Federation, United States Coast Guard, AT&T, PBS and many more. View the list of last year's winners online at: http://www.prnewsonline.com/social-media-icons-winner-2014/.
For a complete list of categories and more information, visit http://www.prnewsonline.com/SMIA2014.
PR News' Social Media Icon Awards is a great opportunity for organizations to get noticed for their top social media initiatives and the individuals driving their success.
For questions regarding the Social Media Icon Awards, contact PR News' Marketing Coordinator Rachel Scharmann at rscharmann(at)accessintel(dot)com. For sponsorship and exhibit information, contact PR News Senior Vice President & Group Publisher Diane Schwartz at dschwartz(at)accessintel(dot)com.
About PR News:
PR News is a daily intellectual hub that serves the communications and marketing community at corporations, agencies and nonprofits. The PR News Group focuses on honing and growing PR practitioners' skills in social media, crisis management, digital PR, measurement, employee relations, media training, CSR and writing through its flagship newsletter, webinars, conferences, awards programs, workshops and guidebooks. With the launch of its weekly newsletter over 70 years ago, PR News has remained dedicated to supporting the growth of communicators all while keeping them abreast of the latest news affecting the industry. For more information, please visit http://www.prnewsonline.com.