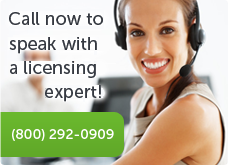 A business does not want its reputation tarnished by its vendors' lack of compliance. LicenseLogix's Vendor Verification Plus service helps businesses minimize that risk
White Plains, New York (PRWEB) December 04, 2014
Businesses of all types and sizes must maintain their own licenses in good standing wherever they operate. However, the licensing obligation may not end there. Earlier this year Oregon penalized six general contractors for hiring unlicensed subcontractors. Those six general contractors may have been fully compliant with their own licensing requirements, but when they hired unlicensed third parties as subcontractors, they fell afoul of Oregon law. Verification of vendors', subcontractors' or other third parties' licenses is a time consuming but critical task to ensure that another party's lack of compliance does not damage a business's brand and goodwill by tainting the public's trust. To help clients manage this effort, LicenseLogix recently added a new service to their roster of business license compliance solutions: Vendor Verification Plus. This new service combines LicenseLogix's expertise in verifying licenses of all types across all jurisdictions, with streamlined technology solutions to manage data transmission and verification results to clients. Vendor Verification Plus delivers comprehensive, ongoing reporting on the license status of the clients' vendors and can integrate license verification results into a client's internal vendor/subcontractor management system. Vendor Verification Plus is a program designed to meet the specific and ongoing needs of businesses working with large numbers of vendors, subcontractors and other third parties. It delivers a comprehensive solution customized to each client.
While LicenseLogix serves companies of all sizes in all jurisdictions, Vendor Verification Plus is particularly relevant for those who work with large numbers of vendors, subcontractors, or other third parties, such as manufacturers, general contractors, business review sites, hospital systems, and vendor management firms. Vendor Verification Plus is a vital service offering to any organization regularly working with and relying on third parties to serve its clients.
This new program is a natural addition and complement to LicenseLogix's suite of services. It demonstrates a business's commitment to full compliance and to working with vendors and other third parties who share that value. Vendor Verification Plus is a tool for companies to protect their brands. A business proactively communicates reliability to its customers by committing to working only with other properly licensed businesses. Moreover, by supplementing a business's vetting process, Vendor Verification Plus may even help a business avoid legal liability for the actions of unlicensed third parties.
"At LicenseLogix, we recognize that it is increasingly important for companies to demonstrate their compliance to customers as well as their commitment to working with fully compliant vendors, subcontractors and other third parties. A business does not want its reputation tarnished by its vendors' lack of compliance. LicenseLogix's Vendor Verification Plus service helps businesses minimize that risk. We verify your vendors' and third parties' licenses, providing you and your customers an added level of assurance." says David Yount, Founder and CEO of LicenseLogix.
LicenseLogix, a full service business license management and consulting firm based in New York, streamlines the process of business licensing by assisting new and existing entities obtain and maintain the proper licensing. Other LicenseLogix services include license research, license filing, license assessment, and license compliance provided through the convenient web-based Client License Information Center (CLiC).
ABOUT LICENSELOGIX:
A team of attorneys, legal service providers, and technology professionals formed LicenseLogix to address a growing need: complying with vast and varying license requirements in all 50 states. The experts at LicenseLogix perform comprehensive business license research, license filing, license verification, license assessment, and ongoing license portfolio compliance. LicenseLogix ensures businesses get licensed faster and helps keep them compliant with the law utilizing their proprietary database of license requirements, forms and agency relationships throughout the United States in addition to their innovative technology solutions.
LicenseLogix's Client License Information Center, CLiC, is a powerful tool that ensures ongoing license compliance. CLiC allows clients to maintain and access all license information in one secure, central location and alerts clients of upcoming renewal dates and other changes in license status.
For more information about LicenseLogix and CLiC, visit LicenseLogix.com.