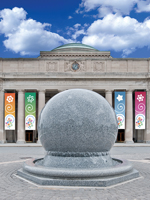 Richmond, VA (PRWEB) December 04, 2014
The Science Museum of Virginia will feature the live broadcast of NASA's Orion test flight in The Dome on Thursday, December 4. Guests are invited to watch this historic event, enjoy a live astronomer-led Cosmic Expedition, access the Challenge Lab and explore three-floors of exhibits.
Scheduled to launch from Cape Canaveral, Orion's four-hour flight will test many of the systems most critical to safety for future missions into deep space. In upcoming missions, Orion will serve as a manned exploration vehicle that will provide emergency abort capability, sustain the crew during the space travel and provide safe re-entry from deep space return velocities. The Museum will celebrate science, technology and innovation with interactive and hands-on activities for both general public and groups to enjoy throughout the Museum.
The Orion experience including exhibits admission, Dome seating and Challenge Lab access is $9 per person, with a $1 discount for groups of 10 or more. Weather permitting. For more information, please call 804.864.1400.