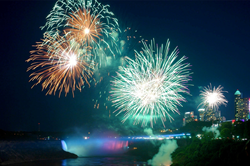 Niagara Falls, Canada (PRWEB) December 09, 2014
Niagara Falls is the place to be on New Year's Eve. Experience the world-class entertainment, incredible outdoor atmosphere, live concert, fireworks shows, and lively attractions that make it the ideal holiday getaway destination for New Year's Eve.
ET Canada's New Year's Eve free concert is taking place on Dec. 31, 2014 in Queen Victoria Park, directly across the street from the Niagara Falls. It will feature performances by Grammy award-winning artist Keith Urban, Nick Jonas, Lights, and Shawn Mendes, and is Canada's largest televised New Year's Eve celebration.
For people planning to visit Niagara Falls and wanting to stay close to the excitement, Falls Avenue Resort offers first-class accommodations at the Sheraton on the Falls, Crowne Plaza Niagara Falls-Fallsview, Skyline Inn, and Clifton Victoria Inn, all located just minutes away from the Niagara Falls and Queen Victoria Park.
Guests can experience panoramic views of the Niagara Falls and fireworks shows from floor-to-ceiling windows at the Sheraton on the Falls and Crowne Plaza Niagara Falls-Fallsview, and easily access the live concert, entertainment spots, and attractions that are located nearby. Falls Avenue Resort is centrally located in the tourist district and offers direct indoor connections to various entertainment, dining, and accommodation options.
For more information and to book a stay, please visit http://www.fallsavenueresort.com/new-years-eve/.
Falls Avenue Resort is a 20-acre entertainment complex in Niagara Falls, Ontario that features properties such as the Sheraton on the Falls, Crowne Plaza Niagara Falls-Fallsview, Hard Rock Café, Hershey's Chocolate World Niagara Falls, Casino Niagara, and Fallsview Indoor Waterpark. The Resort is home to 35 meeting rooms, 1,200 guestrooms, 12 restaurants, and numerous entertainment sites and attractions.