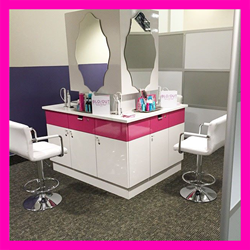 In BLO/OUT's spirit of convenience and accommodating a woman's lifestyle, our BLO/OUT EXPRESS kiosk is ideal in streamlining a busy woman's schedule.
Philadelphia, PA (PRWEB) December 09, 2014
A killer workout at the local LA Fitness club will also kill any girl's hairstyle. What's a girl on the go to do? Since the day certainly doesn't end at the gym. In fact, the day is probably only beginning, getting back to work, meeting friends for drinks, or getting ready for a seriously sexy date. Sweaty ponytails and frizzy topknots won't cut it, and the stress is ruining any post-workout endorphin rush. That's where BLO/OUT Blow Dry Bar comes in to make life easier.
Philadelphia's favorite blow dry bar, BLO/OUT Blow Dry Bar, has just inked an agreement with Fitness International, LLC, to open a BLO/OUT EXPRESS inside of LA Fitness, Mount Laurel New Jersey location. Now making it easy to burn those carbs, shower off the sweat, then just sit back and get a blow dry by a professional BLO/OUT hair stylist. Yeah, it's that easy.
Imagine all those post-workout problems are solved! Not only getting closer to the dream waistline, but also rocking a fresh, salon-quality blowout. Having a BLO/OUT EXPRESS at the gym might actually motivate women of all ages to work out more often! Just hop out of the shower and be treated to a blowout. Leaving the gym even more beautiful than when first arriving is what BLO/OUT EXPRESS is all about!
BLO/OUT's curated menu of Signature Styles ranges from sexy curls to sleek and straight, even offering a root concealer service to hide those in-between color grays. With a talented and rigorously trained staff who can handle all textures and lengths of hair, it's no wonder that BLO/OUT Blow Dry Bar has become a necessity for women from all walks of life!
BLO/OUT's LA Fitness BLO/OUT EXPRESS location is scheduled to open at LA Fitness's Mount Laurel, NJ location on Monday, December 8th. BLO/OUT plans an additional 30 BLO/OUT EXPRESS locations across the country in 2015. BLO/OUT is offering its BLO/OUT EXPRESS locations for franchising.