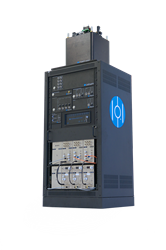 We are very pleased to have developed a commercially available system that produces ultracold matter with the touch of a switch and can be moved easily from one lab to another."
Boulder, Colorado (PRWEB) December 04, 2014
ColdQuanta recently shipped out its first portable system designed for ultracold atom experiments. The portable system allows AMO (Atomic, Molecular and Optics) labs to establish the experimental system required to cool, trap, manipulate and image ultracold atoms without the pain of building up such systems from the ground up and at a significantly lower cost. The system is ideal for researchers who are delving into the applications of ultracold atoms as it allows them to start experimentation immediately.
Physicists from ColdQuanta along with scientists from Dr. Jeffrey Ypez's quantum computing group at the University of Hawaii managed to achieve a magneto-optical trap within 6 hours of unpacking the crate containing the first portable system, a remarkably short time in the world of quantum physics. "We are very pleased to have developed a commercially available system that produces ultracold matter with the touch of a switch and can be moved easily from one lab to another," said Rainer Kunz, CEO of ColdQuanta. "Now we have to find a fitting name for this elegant system."
Selling the first portable BEC/ultracold atom system is a culminating achievement of the company. ColdQuanta's first product was the RuBECi ® which lies at the heart of the system and where the atoms are cooled and trapped. This portable system includes the RuBECi®, related electronics, opto-mechanics, imaging equipment, control equipment and lasers required to reliably and consistently produce ultracold atoms.
BEC and ultracold atoms are used in applications from time and frequency metrology, atom interferometry and inertial sensors, atom lasers, simulation of condensed matter systems and quantum information processing.
ColdQuanta focuses on the development of BEC (Bose-Einstein Condensate) and cold atom generating devices and systems, allowing them to be accessible to a wide range of research, educational, and industrial institutions. Their products are intended for use in scientific and industrial applications requiring high performance and reliability. The company also provides custom engineering solutions to the cold atom and ultracold atom community.