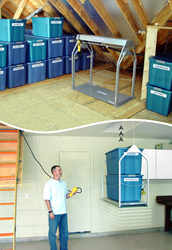 Versa Lift! It's the best thing since sliced bread. I'm a custom homebuilder and 98% of my customers are empty nesters. The response has been great. I'm installing the lifts in every house I build. Kerry Hayes, Kerry Hayes Construction, Ala
(PRWEB) January 06, 2014
Byers Products Group (BPG) announces new fire-rated models of the Versa Lift™, its unique, patented home storage lifting system. The new models provide 30 minutes of fire barrier protection, greatly improving homeowner convenience and the safety that home-building code inspectors look for. The Versa Lift underwent testing at Intertek Testing Services NA, Inc. of Elmendorf, Texas in June of this year. Versa Lift passed the testing criteria for the ASTM E814 standards for a full 30 minutes and it also passed the NFPA 288 standards for a full 30 minutes. The Versa Lift models equipped with the special Fire-Rated ceiling cover door are available now through the company's website: http://www.VersaLiftHome.com
The Versa Lift transfers items to an attic or basement in about 15 seconds per load. The Byers Brothers—Tom and Richard —created the prototype to grant access to storage areas without the dangers associated with carrying heavy boxes up or down ladders and stairs. According to the National Security Council, falls are "one of the leading causes of unintentional injuries in the United States" and "the second-leading cause of unintentional death in homes and communities." Versa Lift and Versa Rail greatly reduce the risk of falling down the stairs or attic ladder while carrying a heavy load. Versa Lift transports all the storage items and Versa rail provides a safety railing around the top of the attic ladder opening.
The system comes with auto-stop, auto-close, and level-up features for extra convenience and safety. In addition to the new fire-rated protection, the Versa Lift was also designed for quick-and-easy storage in flood-prone areas, allowing homeowners to lift valuables and documents to the highest, driest place in their home with the press of a button.
The Versa Lift earned the prestigious Popular Mechanics' Editor's Choice Award for its showing at the 2008 SEMA show. It was also voted the "Hottest New Product" at the 2007 IDA Expo and received the coveted Handyman Club of America's Seal of Approval as a "Member Tested & Recommend" product.
For more information about Versa Lift and Byers Products Group, visit http://www.VersaLIftHome.com.
About Byers Products Group
Byers Products Group has been developing unique home products for more than 30 years. Available through dealers, builders, remodelers and elevator contractors, its products provide safety, convenience and automation that save homeowners time, labor and energy.
The company's goal is to produce tools that make new and remodeled homes more attractive and functional for both home buyers and homeowners alike. BPG brings both innovative design and unique features to high-quality materials and expert workmanship.
Contact:
Byers Products Group
Oklahoma City, OK
Richard Byers
405-491-8550
richard(at)bpghome.com
Those interested in becoming a dealer of BPG products can visit the company's website to download the Dealer Application Forms at the bottom of Home page.