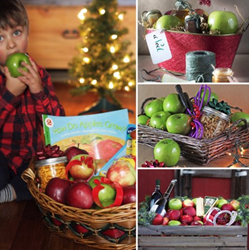 "Giving apples shows you care about their well-being, and adding extra items means you took the time to make it just for them."
Vienna, VA (PRWEB) December 05, 2014
When looking for an inspired, affordable holiday gift this season, the key ingredient may already be in your kitchen: Apples, a perfect centerpiece for a personalized, create-your-own gift basket.
"Apples are affordable, delicious, universally loved and always available – and presenting them in beautiful baskets that you've complemented with other personalized gifts makes for a truly creative and healthy holiday gift," said Wendy Brannen, Director of Consumer Health and Public Relations for USApple. "Giving apples shows you care about their well-being, and adding extra items means you took the time to make it just for them."
Brannen suggests five simple steps for a Do It Yourself (DIY) Apple Gift Basket:
1. Find an artful basket, "either one you already have or a simple, inexpensive basket from a craft store, closest big box retailer, or even your grocery store."
2. Fill with healthy, wholesome apples, "red, green and yellow – the more colors the merrier."
3. Personalize with foods or trinkets your giftee will enjoy, "nothing fancy, simple stocking stuffers will do."
4. Consider a theme for the basket—Is the recipient a music aficionado? Bird watcher? Golf addict? Match the theme to the person—like our suggestions, below.
5. Accent with ribbons, stuffing and personalized labels, "just to make sure they know this was created by you just for them."
Looking for inspiration for your DIY Apple Gift Basket? USApple shares four ideas:

For Kids. Fill a bright basket with colorful apples, crunchy crackers and other fun surprises like books or small toys. Customize a basket for each kid in your life!
For Fitness Fanatics. Give your workout buddy a head start on his or her New Year's resolutions with a basket full of post-workout snacks like apples and walnuts, gym accessories and a clean eating cookbook.
For Sweet Tooths. Have a sweetie who loves sweets? Satisfy his or her cravings with a basket of apples paired with yummy caramel, chocolate sauce and honey (homemade or store-bought).
For Friends, Family and Co-workers. Whether you're playing secret Santa or looking for a last- minute gift, prepare a basket for a perfect night in: A beautiful assortment of apples (with a handy slicer), savory cheese, delicious wine and a fun wine stopper as a keepsake.
Have a DIY Apple Gift Basket idea of your own? Share on http://www.facebook.com/USApples today.
About USApple
U.S. Apple Association is the national trade association representing all segments of the apple industry. Members include 40 state and regional associations representing the 7,500 apple growers throughout the country, as well as more than 400 individual firms involved in the apple business. More information on the organization is available at USApple.org.
###