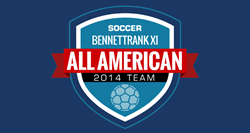 It's important for us to recognize the individuals who had truly monumental seasons
Bellevue, WA (PRWEB) December 03, 2014
BennettRank.com, an emerging digital sports media destination for comprehensive college team rankings and predictions, unveiled their 2014 BennettRank XI All-American Teams for Men's and Women's College Soccer at the D1, D2, and D3 levels.
The Inaugural BennettRank XI All-American Soccer teams recognize athletes who stood head and shoulders above their peers on the field in terms of performance and were considered vital contributors to the success of their respective programs this season.
"It's never easy selecting just eleven players, there are just so many deserving athletes in college soccer. As difficult as it is, it's important for us to recognize the individuals who had truly monumental seasons," said BennettRank CEO Jordan Nilsen.
In anticipation of the upcoming championship weekend, BennettRank has published a preview of each College Soccer Final Four for D1 Women, D2 Men and Women, and D3 Men and Women. D1 Men's Soccer is in the Elite Eight stage and closes out the season the weekend of December 12th.
BennettRank.com is the only sports media company providing team rankings, predictions, and news for all DI, DII, and DIII schools. BennettRank forms relationships with athletic departments; encouraging sports information directors to produce content about their programs, teams, coaches, and athletes so that they can be widely shared.