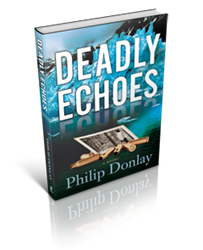 Longboat Key, Florida (PRWEB) December 03, 2014
Oceanview Publishing proudly congratulates authors Philip Donlay, David Putnam, and Jennifer Mortimer as finalists in the 2014 USA Best Book Awards.
DEADLY ECHOES by Philip Donlay (ISBN 978-1-60809-109-6) the fourth Donovan Nash thriller, was released on April 1, 2014, and takes on ecological disasters and terrorism. Donlay follows up DEADLY ECHOES with AFTERSHOCK (ISBN 978-1-60809-139-3), scheduled for release March 3, 2015.
A brief synopsis of Deadly Echoes follows...
Donovan Nash is a man under siege, and this time it's personal. Eco-Watch, the premier scientific research organization he founded, is being blamed for a series of violent ecological atrocities that ignite protests around the world.
Behind the attacks is Garrick Pearce, a man from Donovan's past, who is bent on a ruthless vendetta. Garrick has promised that after he annihilates Eco-Watch, he'll murder everyone close to Nash. Recoiling from the damage, Donovan enlists the help of Erica, a woman who claims she has information Donovan needs, but her knowledge makes her a marked woman.
Running from trained killers, the FBI and even his own organization, Donovan races from southern California to British Columbia, then finally to Alaska where he joins Eco-Watch personnel and desperately tries to stop what promises to be the worst eco-atrocity in history. With his world in tatters and everything he built seemingly destroyed, Donovan is forced to take one last desperate gamble to stop Garrick and silence the man forever—a roll of the dice that may very well cost Nash his life.
THE DISPOSABLES by David Putnam (ISBN 978-1-60809-118-8) was released on May 6, 2014. Putnam's sequel, THE REPLACEMENTS, featuring protagonist Bruno Johnson, is scheduled for release February 2, 2015.
A brief synopsis of The Disposables follows:
Bruno Johnson, a tough street cop, member of the elite violent crimes task force, feared by the bad guys, admired by the good, finds his life derailed when a personal tragedy forces him to break the law. Now he's an ex-con and his life on parole is not going well. He is hassled by the police at every opportunity, and to make matters even more difficult, his former partner, Robby Wicks, now a high-ranking detective, bullies him into helping solve a high profile crime – unofficially, of course.
Bruno's girlfriend, Marie, brings out the good, the real Bruno, and even though they veer totally outside the law, he and Marie dedicate themselves to saving abused children, creating a type of underground railroad for neglected kids at risk, disposable kids.
Caught between police brutality, the demands of his rogue ex-partner, and the precarious circumstances of the children, Bruno is forced into a brutality of his own as he pulls out every stop to save these children from a warped system of justice.
TRILEMMA (ISBN 978-1-60809-112-6) by debut novelist, Jennifer Mortimer, was released on February 4, 2014. The thriller, based in New Zealand, addresses corporate power struggles, murder, and estranged familial relationships.
A brief synopsis of Trilemma follows:
Maverick executive Lin Mere takes over as CEO for a new telecommunications company trying to compete with the big boys in Wellington, New Zealand. With the clock ticking, Lin has to give up almost everything to tackle the demands of the job.
An Asian-American, Lin has followed her father's trail to New Zealand to try to establish a relationship with her father's estranged family and solve the mystery of why they want nothing to do with her...and while in New Zealand, she's intent on rekindling a romance. When danger secretly enters Lin's life from an unexpected source, she has to face an ordeal even more challenging than the battles in the boardroom.
The question becomes not so much whether Lin will survive in the corporate world, but whether she will survive at all.
All Oceanview titles are available in print, audiobook, and all digital/eBook formats, through public libraries and booksellers everywhere. Distributed by Midpoint Trade Books, Ingram, Baker & Taylor, Bookazine, OverDrive, and all other better literary distributors.