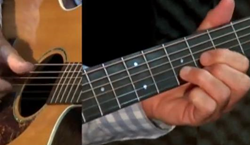 (PRWEB) December 03, 2014
Jimmy Dillon demonstrates this Jimi Hendrix inspired 12 bar blues in the key of A using the finger picking technique that covers the 1-4-5 chord progression. Dillon includes the turnaround and incorporates a variety of blues licks based out of the pentatonic scale throughout the riff.
The 12 Bar Blues Progression is one of the most common chord progressions in popular music. It is most commonly based on the 1-4-5 or 1-4-5-b6 (flat 6) chord progressions. The last two measures is usually a turnaround. The Turnaround is used many styles of music. The Blues Turnaround or V, VI, I (5-4-1) Turnaround came from the Ragtime Blues era. The cadence of the Blues Turnaround is backwards from traditional western music. The job of the Blues Turnaround is to show the listener where the chord progression ends and starts over, it does this by ending on the V (five) of the chord progression making it want to resolve back to the I (one).
A Pentatonic Scale is a musical scale with five notes per octave and is very common and found all over the world.
James Marshall "Jimi" Hendrix was an American rock guitarist from Seattle, Washington. Hendrix is regarded as one of the most influential guitarists of the 20th century even though his career only lasted four years. Over the span of his short career he released four studio albums and one live album and was awarded 7 Lifetime Grammy Awards. Hendrix passed away on September 18th 1970.
Jimmy Dillon
Hailing from the state of Michigan Jimmy Dillon is an award winning songwriter, recording and performing artist, and the director of Blue Star music camp. He has shared the stage with the likes of Carlos Santana, Sting, B.B. King, and many more. He is a multi style guitar teacher and has five albums under his belt.
About GuitarControl.com
GuitarControl.com is the leader in modern guitar instruction. It's packed with recourses including articles, video lessons, and the best videos in the business for the beginner to the advanced guitar student taught by the best instructors out there. Weather you are into the blues, rock, jazz, metal, folk, or anything in between, they have you covered.