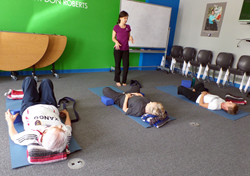 "Several vets have reported that, because of the classes, they have found that they have better balance, are able to get around better, and do more things outside of their homes," said Cheryl Chaffee, director of Garden of the Heart Yoga Center.
Sarasota, FL (PRWEB) December 04, 2014
Suicide, depression, post-traumatic stress disorder (PTSD), traumatic physical injuries … life for U.S. servicemen and women returning from a conflict zone can be challenging in ways most people can only imagine. Since 9/11, the Wounded Warrior Project asserts that more than 52,000 military personnel have been wounded and an estimated 400,000 have been diagnosed with PTSD.
Additionally, of those suffering from PTSD, roughly half don't seek treatment and many of those who do often drop out early.
In an effort to help returning heroes deal with emotional and physical trauma suffered during their service to our country, Goodwill Manasota and the Garden of the Heart Yoga Center have partnered to present "Yoga for Veterans." This program, which began in February 2014, is free to all veterans and their immediate family members. All props – mats, blankets, blocks and straps – are also provided free of charge.
Initially, the program was offered three times a week at the Sarasota Vet Center and in the Community Room at the Goodwill retail center on North Tamiami Trail. Currently, because of long waiting lists at the Vet Center and limited space there, classes are being held at the North Trail Goodwill and at the Garden of the Heart Center studio to accommodate many more veterans.
Cheryl Chaffee, who serves as the director of the yoga center, is credentialed in Warriors at Ease, a yoga system developed in collaboration with the Department of Defense specifically for veterans who suffer from PTSD, traumatic brain injury, combat stress, physical disability and depression. According to Chaffee, many of the participants actively look forward to the class and some even report it is the high point of their week.
"They enjoy getting off their couches and moving, and they have cultivated friendships with classmates," Chaffee said. "Several vets have reported that, because of the classes, they have found that they have better balance, are able to get around better, and do more things outside of their homes."
Studies have shown that the emotional benefits of this type of yoga program include reduced rage, anxiety and emotional reactivity, and increased feelings of relaxation, peace, self-awareness and self-efficacy. The physical benefits are many – better balance, improved flexibility, and increased strength and muscle tone, among others.
Harriet Roberts, who started the Yoga for Veterans program in Sarasota, is passionate about how yoga helps to heal bodies and minds damaged by war. "The yoga we teach is not just recreational – it has a palpable healing effect, both physically and psychologically," she said. "Yoga invites us to focus on our true selves in order to challenge our bodies so that we can develop skills to strengthen, heal and experience the joy of life."
The Yoga for Veterans program is part of Garden of the Heart's "Karma Yoga Outreach Program," a sponsored program of Goodwill. Through the partnership with Goodwill, the yoga center can accept donations to support bringing therapeutic yoga to special populations in the community including veterans, individuals suffering from debilitating illnesses, and children with special needs. The Karma Yoga Outreach Program is also in the process of adding special yoga classes for women who have suffered sexual trauma and recovering alcoholics and drug addicts.
"Goodwill has been thrilled at the partnership with Garden of the Heart Yoga Center," said Bob Rosinsky, president & CEO of Goodwill Manasota. "Goodwill is committed to helping returning servicemen and women receive programs and services that will help them to better re-acclimate to life at home. It's also been wonderful to learn that, through the healing powers of yoga, some veterans have even been able to go back to work for the first time since returning from active duty."
Roberts' passion for helping veterans is deeply personal. Her father, husband, son-in-law and daughter-in-law are all vets. "We have no idea of the brutality these people have witnessed," she said. "I know what yoga can do for just about anybody … and for people who have been shredded by war."
Under the auspices of the Karma Yoga Outreach Program, Garden of the Heart also provides advanced yoga workshops and courses of study in therapeutic yoga for qualified area instructors seeking specialty training. On October 12, Chaffee hosted a program called "Connected Warriors" – another specialty that benefits veterans – to 30 yoga teachers. The weekend of Oct 17 through 19, Garden of the Heart hosted Every Kids Yoga, a specialty training to teach yoga to children with special needs.
Another current program is a partnership with Neuro Challenge Parkinsons Foundation: individuals with Parkinson's disease have enjoyed a special yoga program at Goodwill's North Port retail center.
In a program that just recently began, Garden of the Heart is providing instructors to teach students ages 6-22 every morning at Ave Maria Preparatory School. The yoga benefits students with special needs such as autism, Asperger's, sensory integration issues, and other mental developmental disabilities.
Roberts, who became a devoted yogini after a career as a Wall Street corporate lawyer, is committed to helping others through the practice of yoga.
"During the time that I practiced law … yoga strengthened my ability to step back, manage the chaos and master my game. At the same time it made me healthy and resilient," she said. "I created the Karma Yoga Outreach Program at Garden of the Heart out of my desire to give back to my community and also to harness the powerful positive techniques of yoga in order to make the world a better place. I felt strongly that when I became a yoga teacher I wanted to bring yoga to under-served communities – populations that could really benefit from the healing and enriching experience of yoga but who would otherwise have no access or exposure to it."