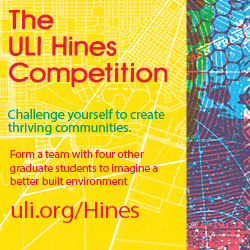 Washington, DC (PRWEB) December 04, 2014
The Urban Land Institute (ULI) has announced the last call for sign-ups in the 13th Annual ULI Hines Competition. The deadline for student team applications is set for Monday, December 8, 2014 at 5:00 p.m. EST. Only those student teams signed up by the cutoff are eligible to compete in January.
The ideas competition allows multidisciplinary graduate student teams the opportunity to devise an urban development vision and compete to win $50,000. The competition is designed to simulate an actual urban planning and development scenario where intensive collaboration across disciplines and sectors is required to complete a major real estate development. Since its first year in 2003, over 6,200 graduate students have participated in the ULI Hines Competition.
In the Hines Competition, students will have the chance to form a multidisciplinary team with four other graduate students in the United States or Canada and tackle a real land use challenge in a U.S. city. Teams of five students representing at least three disciplines have two weeks to develop solutions that include drawings, site plans, tables, and market-feasible financial data.
2015 Hines Competition Calendar & Deadlines:
Deadline to apply as a team: December 8, 2014 at 5:00 p.m. EST
Teams notified of eligibility: December 15, 2014
Competition dates: January 12, 2015 - January 27, 2015 at 5:00 p.m. EST
Finalist teams announced: February 2015
Site visit by a representative from each finalist team: March 2015
Final presentations and winner announced: April 2015
This is an ideas competition with no expectation that any of the submitted schemes will be applied to any site. A $50,000 prize will be awarded to the winning team, with $5,000 of the total going to the school. Each of the remaining three finalist teams will receive $10,000. There is no charge to enter the competition.
For more information, please visit uli.org/hines.
About the Urban Land Institute
The Urban Land Institute (uli.org) is a nonprofit education and research institute supported by its members. Its mission is to provide leadership in the responsible use of land and in creating and sustaining thriving communities worldwide. Established in 1936, the Institute has over 32,000 members representing all aspects of land use and development disciplines.