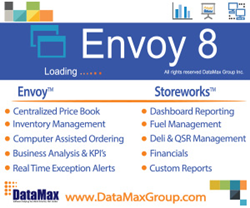 Envoy provides a future-proof platform for the rapid and constant change today's convenience store management teams require.
Round Rock, Texas (PRWEB) December 10, 2014
Today DataMax Group, Inc., a leading provider of convenience store back office software, announced the release of the latest version of their global retail management software, Envoy 8. The new and improved convenience store retail management software will provide retailers with more tools than ever to help maximize profits and streamline store operations.
"Envoy needed a technology facelift," said Lee Pennington, President and CEO of DataMax. "The technology we were using had fallen behind, and we needed to improve for our customers. We chose a technology stack and application architecture, then we converted our development process from Waterfall to Extreme Agile to better address our customer's need for rapid change. It was tough on our development team. Many long nights and difficult days ensued. This project was a 'must do – cannot fail' for our company if we were to continue to serve our customers. Today, I am thrilled to say we have the new Envoy – Envoy 8. Not only does it encapsulate all business rules of prior Envoy products, it also adds new features and business rules, and provides a future proof platform for the rapid and constant change today's convenience store management teams require."
DataMax's convenience store software has brought success to some of the largest oil companies in the world as well as single site users. Through the constant evolution of its software capabilities, DataMax has always remained one step ahead of the rapidly-advancing markets of fuel and merchandise convenience retailing. DataMax also makes the process of implementing their solutions extremely simple through its proven 'blueprint and build' process. This is also coupled with the software's ability to easily integrate with devices and other existing software on a plug-and-play basis.
"Envoy 8 represents the latest iteration of our world-class convenience store retail management software. It provides full life cycle support for both dry and wet stock management as well as accompanying requisite features such as Price Book, Accounting / Daily Book, Analysis /BI. This new version leverages the latest technology to focus on better integration of data sources, faster processing speeds and a completely new and innovative set of marketing tools in a new Advanced Promotions Manager module," said Peter Jackson, VP of Engineering at DataMax.
Envoy 8's new platform will allow convenience store owners to focus on real-time store activity with quick and customizable sales data analysis, which can also be used to structure targeted sales with the new Advanced Promotion Manager module and Price Book. Also, to reach more of your customers and promote specific items in store, Envoy 8 has the ability to push your specials and select pricing through your store social channels, such as Twitter and Facebook.
With the increasing importance of understanding and analyzing Big Data to maximize profits, Envoy 8 helps simplify this process. Included in Envoy 8 is a full suite of analysis tools based on pivot grids and on-demand graphing as well as canned and user-definable reports. Analysis can all be done from a central headquarters control point for all aspects of the entire retail operation.
Other new capabilities of the Envoy 8 Global Retail Manager include:

User defined KPIs
User defined Dashboards
User defined reports – system wide and personal
Ability to rapidly integrate with modern technology
Tight controls for operations via work flow
Advanced Food service and recipe management with ingredient level inventory tracking
Physical inventory tracking and reporting by item
Multiple languages, currencies and taxes
Ability to control allowable variances through defined exceptions
"Envoy 8 is a significant and profound change for DataMax and for our customers," Pennington said. "Our customers required such a platform, given their global diversity and ever-changing needs. We see the evolution of convenience retailing through the eyes of customers in over 50 countries. Changes can be quick and drastic as markets evolve. We needed to be able to better respond to our customers needs. Converting Envoy to the latest Microsoft .Net technologies with a SQL Server back end data center gives us that ability to respond to change quickly. DataMax has a saying we use both internally and externally on our projects: Change is good. This 'change' of Envoy has truly been good for our customers."
About DataMax
For over 20 years, DataMax Group, Inc. has focused on providing innovative and comprehensive software solutions and professional services to the convenience retailing and petroleum industries. With over 28,000 sites installed in over 50 countries, DataMax has proven to create the best ROI for conveniences store, whether it is a global chain or single site. DataMax has offices in Round Rock, Texas; Montreal, Canada; Bangkok, Thailand; and Silsoe, United Kingdom. To learn more about DataMax or request a software demo, visit http://www.DataMaxGroup.com or Contact DataMax Sales at +1 (512) 246-4022 or sales(at)datamaxgroup(dot)com.