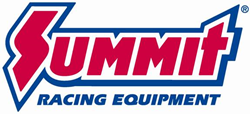 Tallmadge, OH (PRWEB) December 12, 2014
Street Demon Carburetors are designed to deliver stable idle, crisp throttle response, and overall improved performance with very little tweaking and tuning. That means these carburetors can go straight from the shipping box to an ntake manifold—no tiny adjustments, no jet-swapping, and no aspirin necessary.
A Street Demon Carburetor was featured on Episode 17 of PowerNation's Engine Power. Watch the full episode here.
The carburetors feature an integrated fuel bowl/main body design that keeps the gasket above fuel level, significantly reducing the chance for fuel leaks. Small throttle bores combine with triple-stack boosters to provide uber-crisp throttle response.
The carburetors have provisions for Ford AOD and GM 700R4/200R4 transmission kickdown cables. They have dual-bolt patterns to fit both square-bore and spread-bore manifolds.
Street Demon Carburetors come in 625 CFM and 750 CFM versions, with either aluminum or composite bowls. Summit Racing has replacement parts available as well.
SEE STREET DEMON CARBURETORS AT SUMMIT RACING
Summit Racing Equipment
http://www.SummitRacing.com
1-800-230-3030