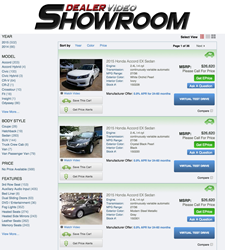 We are extremely pleased to now offer Inventory Video Integration of more than 1,800 premium, interactive video test drives for new and used cars.
Acton, Massachusetts (PRWEB) December 04, 2014
First Ever HD Video Integration into VDP's
Acton, MA. December 4, 2014: In an automotive industry first, WheelsTV has unveiled the first ever full-motion HD video integration for use within auto dealers' website Vehicle Detail Pages (VDP's) and Search Result Pages (SRP's). With Inventory Video Integration (IVI), every vehicle on a dealer's lot from 2008 to present has a professionally produced interactive video that profiles the best attributes of that vehicle's year, make and model. Performance, Safety, Comfort and Convenience and Fuel Economy are all presented within the dealer's Dealer Video Showroom (DVS) platform: http://dealervideoshowroom.com
"New2U" Used Car Videos provide key awards and accolades while "1onOne Plus" New Car Videos include new car warranty information.
WheelsTV CTO Collin Davis states, "With the Inventory Video Integration of our DVS platform, dealers can now provide full-motion HD Virtual Test Drives for every new and used vehicle that they sell. This is the only high-definition, interactive, premium video offering that covers both pre-owned and new cars. It's the best video test drive content on the market, and it engages the consumer to drive the sale forward."
WheelsTV unveiled the Dealer Video Showroom for new cars in the spring of 2014 at Digital Dealer 16 and received praise from U.S. dealership managers. The DVS's immersive interactive video experience was an instant hit and is now helping to speed the purchase process for consumers and digitally savvy dealerships across America.
With the addition of the used car Inventory Video Integration that matches videos to dealer's inventory in real time, virtually every late-model car from 2008 to the present has a corresponding premium model-level video.
"Dealers love the Dealer Video Showroom simply because it works so well; helping new car shoppers to become new car buyers," says Jim Barisano, CEO of WheelsTV. "But the dealership managers desperately wanted to have the same broadcast quality virtual test drives for their used car listings to complement their VIN-specific, pic-to-vid walk-arounds. The WheelsTV Product team, headed by Collin Davis, responded. Now, with IVI's quick and easy integration, every dealer can enjoy the benefits of providing interactive video for their entire new and used inventory. By making the car shopping process enjoyable they are building loyalty and goodwill and of course, selling more cars to happy customers."
Inventory Video Integration works hand in hand with VIN specific video walk-arounds, bringing the year/make/model of the car to life on America's roads, boosting the shopper's desire to own the car and moving the sale forward.
Lehel Reeves, President of WheelsTV states it clearly, "Car shopping should be fun. That's why we created the Dealer Video Showroom and that's why we are extremely pleased to now offer Inventory Video Integration of more than 1,800 premium, interactive video test drives for new and used cars. They make car shopping enjoyable again while helping online car shoppers to quickly and easily become car buyers. "
For more information call WheelsTV at 1-844-943-3578 or email contact(at)wheelstv(dot)net
Automotive Networks Corporation, d/b/a WheelsTV, is a multifaceted media technology company that creates and distributes cutting-edge interactive video platforms and original automotive content for Internet Sites, Mobile and IPTV platforms, Broadcast TV and VOD. Patent-pending products include the Digital Video Showroom and iDrive Interactive Video Player. Exclusive content includes 1onOne Plus new car video test drives, New2U used car test drives and POV Reviews, covering generations of used vehicles.