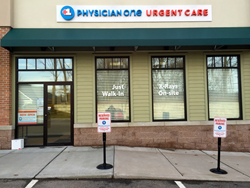 Residents of Colchester and surrounding towns need better access to high quality and convenient medical treatment to accommodate their busy schedules
Colchester, CT (PRWEB) December 05, 2014
PhysicianOne Urgent Care is now open in the Keystone Shoppes Plaza located at 179 Linwood Avenue in Colchester. PhysicianOne Urgent Care provides expert walk-in medical care 365 days a year for non-life threatening illnesses and injuries. Hours of operation are 8:00 am – 8:00 pm during weekdays, and 9:00 am – 5:00 pm on weekends and holidays.
"Residents of Colchester and surrounding towns need better access to high quality and convenient medical treatment to accommodate their busy schedules," said Chief Executive Officer Dr. R. Robert Rohatsch. "PhysicianOne Urgent Care will save residents unnecessary, expensive, and time-consuming trips to the emergency room for non-life threatening illnesses or injuries."
During the month of December, patients and guests can enter a sweepstakes for a chance to win a fitness, gourmet, or feeling-good themed gift basket. The gift basket prizes will feature items from the local Colchester business community and are valued at $200.00 each.
With the addition of the Colchester clinic, PhysicianOne Urgent Care now has 9 locations in Connecticut. PhysicianOne Urgent Care's rapid expansion plans will move forward with approximately 6 more locations in 2015.
About PhysicianOne Urgent Care
Established in 2008, formerly operated under the name Urgent Care of Connecticut,
PhysicianOne Urgent Care is doctor owned and operated. As the first urgent care clinic in Connecticut to be accredited and certified by the Urgent Care Association of America, and accredited by The Joint Commission, PhysicianOne Urgent Care takes great pride in its practice of evidence based medicine, a patient first philosophy, providing a cost effective alternative to the Emergency Room, and being a convenient alternative to primary care physicians during off or peak hours. PhysicianOne Urgent Care provides walk-in treatment for a wide array of illnesses and injuries. On-site services include x-ray, lab services, and a medication dispensary.
All locations are open 365 days a year. Experienced doctors are on-site at all times. Most insurances and Medicaid accepted. For more information, please visit http://www.PhysicianOneUrgentCare.com.