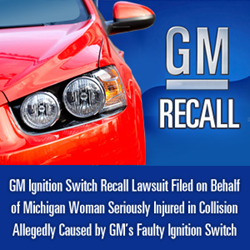 If you would like to learn more about filing a GM ignition switch lawsuit, contact the Oliver Law Group P.C. for your free case review by calling toll free 800-939-7878 today or visit www.legalactionnow.com
Detroit MI (PRWEB) December 03, 2014
GM Faulty Ignition Switch News: A Texas woman was exonerated of a negligent homicide charge in connection with a car crash that killed her boyfriend 10 years ago after GM acknowledged that the fatal wreck was due to a defective ignition switch. The New York Times reported that the woman pleaded guilty to the criminal charge stemming from the November 15, 2004, crash in which she lost control of her 2004 Saturn Ion, and hit a tree. The woman, who also sustained serious injuries in the crash, was sentenced to five years probation and ordered to pay $10,000 in fines and restitution. According to The New York Times, GM knew before the woman pleaded guilty that the faulty ignition switch was to blame for the crash but the automaker did not let the woman or police investigators know about the problem. The New York Times reported that once GM linked the boyfriend's death to the faulty ignition switch, Democratic U.S. Senator Richard Blumenthal urged GM CEO Mary T. Barra and Michael P. Millikin, GM's top lawyer, to contact Texas Governor Rick Perry and ask him to pardon the woman. The GM officials did not ask for a pardon but offered to "submit evidence to support" clearing her criminal record, according The New York Times.
[nytimes.com/2014/11/25/business/woman-cleared-in-death-caused-by-gms-faulty-ignition-switch.html?_r=1, November 24, 2014]
GM began a recall in February of certain of its vehicles that were built with a defective ignition switch that can move without warning from the "On" or "Run" position to the "Off" or "Acc" position. The unexpected change could cause the vehicle's engine and certain electrical components to suddenly turn off and disable the airbag system. The more than 2.6 million vehicles that GM recalled included:

2003-2007 Saturn Ion
2005-2007 Pontiac G5
2005-2010 Chevrolet Cobalt
2006-2010 Pontiac Solstice
2006-2011 Chevrolet HHR
2007-2010 Saturn Sky
Bloomberg reported that GM was fined a record $35 million by the U.S. Department of Transportation for failing to correct the defective vehicles and notify the public about the problem in a timely manner.
[safercar.gov/Vehicle+Owners/Consumer+Alert:+GM+Ignition+Switch+Recall+Information,
NHTSA, February 2014]
[bloomberg.com/news/2014-05-16/gm-said-to-agree-to-u-s-fine-over-ignition-switch-recall.html, May 16, 2014]
Court documents indicate that all federally filed GM ignition lawsuits were transferred to the U.S. District Court, Southern District of New York for pretrial proceedings. As of November 17, 2014, 133 wrongful death and personal injury lawsuits are pending in the GM multidistrict litigation in the New York federal court. U.S. District Judge Jesse M. Furman, who is managing the GM litigation, has scheduled the first faulty ignition switch lawsuit for trial on January 11, 2016. (In re: General Motors LLC Ignition Switch Litigation, MDL 2543)
[jpml.uscourts.gov/sites/jpml/files/Pending_MDL_Dockets_By_District-November-17-2014.pdf, November 17, 2014]
GM established a Victims Compensation Fund to compensate survivors of fatal accident victims and individuals who were severely injured in crashes due to the faulty ignition switch. According to The New York Times, the fund has received 2,105 claims for compensation. So far, 33 of the 217 death claims are eligible for compensation, the report said. The deadline for submitting a compensation claim has been extended from December 31, 2014 to January 31, 2014. The New York Times reported that the Texas woman who, for years, had blamed herself for the death of her boyfriend, said she would accept a payment from GM's compensation fund, take the clearing of her criminal record and "move on with my life."
[nytimes.com/2014/11/17/business/deadline-extended-for-gm-accident-claims.html?_r=0, November 16, 2014]
[nytimes.com/2014/11/25/business/woman-cleared-in-death-caused-by-gms-faulty-ignition-switch.html?_r=1, November 24, 2014]
The Oliver Law Group is offering free legal reviews to individuals who were injured, as well as the families of those killed, in automobile accidents allegedly related to GM's ignition switch recall. To learn more about filing a GM ignition switch lawsuit, please contact our office by calling 800-939-7878 today.
About The Oliver Law Group P.C. And Filing A Gm Ignition Switch Lawsuit
The Oliver Law Group P.C. is a different kind of law firm. One that focuses on the needs of the injured first. A compassionate law firm dedicated to fighting for the rights of victims and their families, and doing everything necessary to ensure those rights.
The experience of a large firm. The 1-on-1 dedication of a small firm. A reputation built on trust.
Experience. Dedication. Trust. Oliver Law Group P.C.
If you would like to learn more about filing a GM ignition switch lawsuit, turn to the law firm with the Experience, Dedication, and Trust you deserve. Contact the Oliver Law Group P.C. for your free case review by calling toll free 800-939-7878 today.