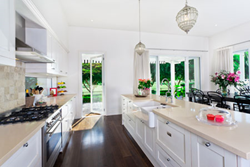 Your Dream Kitchen only few Steps away, Dress up your Kitchen with our New Modern White RTA Kitchen Cabinets
New York, New York (PRWEB) December 04, 2014
Remodeling a kitchen successfully within budget in a timely manner is no easy task. Turning the space into a family's dream kitchen can also be an extremely stressful undertaking. Kitchen Cabinets New York eases this stress with pre-assembled kitchen cabinets and home delivery. Kitchen Cabinets New York recently provided some insight on how to start a kitchen remodeling project with their main tips listed below:
1. Set a budget for your project - Sometimes remodeling a kitchen turns into a snowball effect where it gets more and more expensive as a homeowner goes further into the construction process. Setting a budget at the beginning of the project can help alleviate some of these issues by limiting the possibility of going over in comparison to someone who never set a budget to begin with.
2. Start a plan from the most expensive material of the project - In the case of kitchen remodeling, kitchen cabinets should always be the starting point. New cabinets are generally the center of attention for most kitchens as they provide a look into the home owner's style and taste. Cabinets should also be the starting point in the remodel process because they are the most difficult to change after installation as opposed to appliances and counter tops which could be upgraded at a later time. Kitchen Cabinets New York created an interesting Style Test on its online store for homeowners who are curious what their personal cabinet style is. Many Kitchen Cabinets New York customers found the Style Test fun to do as well as helpful in the process of selecting their kitchen cabinets.
3. Design a kitchen layout with an experienced designer - Hiring a good designer can help turn a homeowner's vision into a reality and mitigate unnecessary spending. Kitchen Cabinets New York provides free and unlimited revision design services to their customers in need of a good designer. After Kitchen Cabinets New York receives a design request they assign professional designers to work with, from the beginning to the end of the design process.
4. Chose a right kitchen cabinet retailer - Homeowners usually want to make sure that the retailer they purchase from has a variety of design options that fit an individual's unique taste. Kitchen Cabinets New York ensures reasonable prices, great customer service and fast delivery time to ensure customers they are one of the best kitchen cabinet retailers.
Following these simple steps should help ensure homeowners have the best experience with remodeling their kitchen. For more information on kitchen remodeling and Ready to Assemble (RTA) Kitchen Cabinets please visit Kitchen Cabinets New York at http://www.kitchencabinetsnewyork.us/
About Kitchen Cabinets New York
Kitchen Cabinets New York was founded by a group of passionate interior designers and professional cabinet makers in 2004. It is our passion to assist our customers to design and build their dream interior projects. Any customer can find the perfect cabinet style to easily suit their taste on http://www.kitchencabinetsnewyork.us. Our service facilities are located throughout the United States and all of our cabinets are carefully assembled, tested and packaged by skillful workers. Our service goal is to minimize the work load after our customers receive our products.
To request a free sample of our cabinets please go to http://www.kitchencabinetsnewyork.us/product/sample or http://www.kitchencabinetsnewyork.us to get a dream kitchen project started.
Phone: 888-966-1681
718-290-9935
Fax: 714-886-1638
Service Office:633 W. Katella Ave., Unit I,
Orange, CA 92867