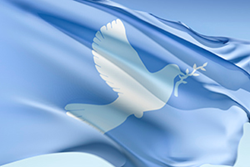 Ziv sheds new light on what it takes for decision-makers to revise their hard-line beliefs and pursue new, more accommodative policies. Shimon Peres is an exemplary case of a hawk-turned-dove.
Washington, DC (PRWEB) December 04, 2014
American University's School of International Service assistant professor Guy Ziv's new book,Why Hawks Become Doves: Shimon Peres and Foreign Policy Change in Israel, examines the role that leaders' personalities play in dramatic foreign policy change.
The policy implications of Ziv's research are significant. Ziv says, "If there are certain common factors underlying a leader's shift from a hawkish foreign policy orientation to a more dovish one, then identifying such factors could, among potential benefits, help policymakers shape the circumstances that might sway other leaders to opt for peace diplomacy."
With growing violence in Jerusalem and the prospects for Mideast peace looking bleak, Ziv's book is timely. What is the likelihood that Israeli Prime Minister Benjamin Netanyahu and Palestinian Authority President Mahmoud Abbas will take bold steps to break the impasse in the peace talks and work earnestly toward a two-state solution to the Israeli-Palestinian conflict? Ziv sheds new light on what it takes for decision-makers to revise their hard-line beliefs and pursue new, more accommodative policies.
Case Study of Leadership: Shimon Peres
Ziv chose former Israeli President and Prime Minister Shimon Peres as the primary leader in his case study because of Peres' six decades of public service at the highest levels of decision making. "Peres is an exemplary case of a hawk-turned-dove," Ziv argues. His formative political years were spent running the ministry of defense, where he oversaw furtive arms deals and the development of Israel's nuclear weapons program. He was a fierce advocate of counter-terrorism attacks. Following the 1967 War, Peres established some of the first Jewish settlements in the newly-occupied West Bank. His foreign policy views during the first half of his career were hard-line compared with his colleagues in the governing Labor Party.
It was only in the late-1970s and early-1980s that Peres emerged as a champion of the Middle East peace process, revising his positions on territorial compromise, negotiations with the PLO, Jewish settlements in the West Bank, and Palestinian statehood. Utilizing archival documents and interviewing dozens of political elites with close connections to Peres – and Peres himself – Ziv explains not only Peres' dramatic shift, but also why it occurred sooner than others, such as his archrival Yitzhak Rabin.
Ziv's book also serves as a political biography of one of Israel's most important political players who has held every senior position in the Israeli government and changed the course of Israeli history.
Three Central Findings
Ziv's research led him to three central findings concerning a leader's dovish shift.
First, applying insight from cognitive psychology, Ziv finds that the more cognitively open and cognitively complex a leader is, the more likely that leader is to change his foreign policy preferences, thereby becoming more dovish—leaders typically go from more hawkish to dovish. Looking at Israeli leaders, Peres and Rabin agreed to make significant compromises with the enemy. However, Ziv shows that Menachem Begin and Yitzhak Shamir, who were far less cognitively open and complex, never budged in their foreign policy positions. Ziv traces how Peres and Rabin concluded that peace and security for Israel could only be obtained with the PLO through negotiation and painful territorial concessions.
The second key finding is that how a particular leader perceives the impact of a shift in the distribution of power on the state's security interests is critical in determining whether he will opt for the status quo or to change foreign policy direction. After the fall of the Soviet Union and the PLO's gambit to back Saddam Hussein during the first Gulf War, Peres and Rabin recognized the PLO's weakened position and Israel's upper-hand to seek an historic compromise. Both leaders perceived that Israel's long-term security interests could be cemented if they considered accommodating the adversary.
The third key finding is that, to the extent that Israel's leaders have changed from hawks to doves, they have done so following domestic political realignments that favored more dovish policies over hawkish ones. Ziv explains that moving to the left politically in the case of Rabin and Peres for the Labor Party mainstream provided the opportunity to pursue more dovish policies.
Where Is Netanyahu on the Cognitive Spectrum?
"Benjamin Netanyahu emerged as the hawk who 'outhawked' Ariel Sharon throughout the 1990s and into the first decade of the 21st century until Sharon suffered an incapacitating stroke," says Ziv. Netanyahu warned the Likud Central Committee in 2002 that a Palestinian state would be a mortal danger to Israel. However, President George W. Bush's "Road Map for Middle East Peace," which was based on a two-state solution, backed Sharon and Netanyahu into a corner. Sharon accepted the Road Map (albeit with reservations), but Netanyahu continued to oppose a Palestinian state. Only in June 2009 did Netanyahu succumb to U.S. pressure and publicly accept a two-state solution. Nevertheless, Ziv points out that Netanyahu's sincerity to promote this solution is doubtful given both his rhetoric and his unilateral actions, such as the approval of an unprecedented construction of housing units in the West Bank and East Jerusalem.
Netanyahu, Ziv shows, is an unreconstructed hardliner who remains opposed to a Palestinian state. As Ziv points out, "Netanyahu chooses to surround himself with loyal political supporters who identify with his worldview, therefore leaving little room for change." Ziv concludes that Netanyahu's cognitive structure is more closed than open and more binary than complex.
Late 20th Century Pantheon of the Cognitively Complex
Cognitive complexity and openness were well represented in the late-20th century. U.S. Presidents Jimmy Carter and Ronald Reagan both met the thresholds, as did Soviet leader Mikhail Gorbachev according to Ziv's examination.
Looking ahead into the 21st century, Ziv sums up his key takeaway in his actor-specific approach, suggesting that shedding light on the thinking of the propensity behind a leader's ability to update his core beliefs or remain committed to them regardless of circumstances is an important measure. How a decision maker reacts to changed circumstances is important and can make the difference between initiating or continuing a protracted conflict and ending it.
American University is a leader in global education, enrolling a diverse student body from throughout the United States and nearly 140 countries. Located in Washington, D.C., the university provides opportunities for academic excellence, public service, and internships in the nation's capital and around the world.
-AU-