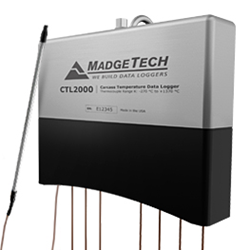 (PRWEB) December 05, 2014
Equipped with eight thermocouple ports, the CTL2000 monitors and records the temperatures of various sections of the carcass during pasteurization, providing a continuous and accurate temperature profile to verify and validate that harmful microorganisms have been effectively depleted.
The new design of this data logger retains all of the great features of the original CTL2000, but offers a number of enhancements. The durable enclosure is drop tested and designed to survive the elements of the slaughter environment. The top of the enclosure is made of food grade 316 stainless steel with an industrial quality custom machined base that skirts the thermocouple ports to guard against debris infiltration and harsh wash down cycles. The quality materials and form factor were chosen and designed with AMI's 'Sanitary Equipment Design Principles' in mind, produced using sanitary standards, and made with materials certified for direct food contact as described by NSF 51.
Don't let the tough exterior fool you, the CTL2000 is lighter than ever, measuring only 8 inches in length and weighing just three pounds. Highlighted by a single stainless steel hook, the CTL2000 is perfectly weighted to hang inconspicuously and securely alongside carcasses throughout the pasteurization cycle. The device is capable of withstanding temperatures from -20 °C to 100 °C, allowing it remain with the carcass and monitor the entire pasteurization process.
The CTL2000 now has a built in pushbutton feature making it possible for staff to initiate the device to start logging data while at the device, without needing to access a computer. The CTL2000 can be configured to record as often as four times per second or as seldom as one reading every 24 hours. Each channel has the capacity of storing over 129,000 readings which aids in the logging of multiples cycles.
Using the MadgeTech Data Logger Software, the CTL2000 can be programmed to start at a user specified time with the delayed start options. The MadgeTech software offers a wealth of data display and reporting options to easily analyze the results of each cycle, allowing the user to easily provide verification for USDA regulation compliance.
To learn more about the CTL2000 and all it has to offer, please call MadgeTech's knowledgeable sales staff at (603) 456-2011.