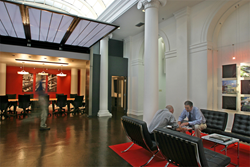 "The new office will be an extension of our Toledo office and work seamlessly to preserve our belief that teamwork is an attitude," says Russeau
Toledo, OH (PRWEB) December 08, 2014
The Collaborative, a design and delivery oriented architecture, interior design and landscape architecture firm, is expanding operations to include a second office location in Ann Arbor, MI. The new office at 206 South Main Street, Suite 231 allows The Collaborative to better serve existing and future higher education and corporate clients in Michigan.
Keith Russeau, Architect and Principal, will lead the Ann Arbor office. Keith has been with The Collaborative since 2000, became Principal in 2014 and is a University of Detroit Mercy alumni. "In order to continue our dedication to design excellence and project delivery, we are expanding into Michigan. The new office will be an extension of our Toledo office and work seamlessly to preserve our belief that teamwork is an attitude," says Russeau.
The Collaborative selected Ann Arbor based on the vibrant neighborhoods and proximity to serve the Michigan core. The location positions The Collaborative to provide timely, on-site service across the state. The atmosphere along Main Street feeds creativity, spurring tailored environments for our clients' unique needs. The Collaborative is currently serving Michigan clients including Adrian College, Alma College, Eastern Michigan University, La-Z-Boy, Olivet College and Siena Heights University and looks forward to expanding this network.
About The Collaborative
The Collaborative is a 47-person multi-disciplined firm, encompassing Architecture, Landscape Architecture, Interior Design, Planning and Graphic Design. Founded in Toledo, Ohio in 1973, The Collaborative serves the educational, corporate and recreational markets. To find out more please visit, http://www.thecollaborativeinc.com