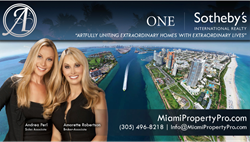 South Beach, FL (PRWEB) December 08, 2014
The Haute Living Real Estate Network (HLRN) of Hauteresidence.com is proud to recognize Amorette Robertson and Andrea Perl as prominent real estate professionals and the network's newest partners. HLRN unites a distinguished collective of leading real estate agents and brokers, highlighting the most extravagant properties in leading markets around the globe for affluent buyers, sellers and real estate enthusiasts.
About Haute Living Real Estate Network (HLRN):
Haute Living Real Estate Network (HLRN) of Hauteresidence.com offers readers the most prominent directory of experienced realtors, brokers and luxury listings, and HLRN has grown to be the number one source for real estate news, residential developments, celebrity real estate news and more. Seeking an experienced interior designer? Hauteresidence.com is also home to Haute Design Network (HDN), a collective of celebrated interior designers that will help you decorate your new home or stage an active listing. Access all of this information and more by visiting: http://www.hauteresidence.com/
About Amorette Robertson and Andrea Perl:
Buying or selling a home is one of the most important financial decisions many people will make during their lifetime. Choosing experienced professionals to guide you through this process is critical to achieving both your lifestyle and investment goals.
Leveraging ONE Sotheby's prestigious global network and state-of-the-art technology to connect buyers and sellers from around the world, this highly educated and dynamic team delivers unparalleled service with integrity and an un-yielding focus on excellence.
Amorette & Andrea each have over 20 years of experience in luxury residential and commercial property sales and leasing. They possess an intimate knowledge of Miami's most desirable residential neighborhoods, are experts on the latest pre-construction projects and are able to skillfully determine the best investment or home for their buyers and guide each transaction through to the closing and beyond. As certified Seller Representatives, Amorette and Andrea work hard to achieve the maximum market price for their seller's homes through a unique and extensive marketing strategy and their expert negotiation and staging skills. Amorette and Andrea are members of the National Association of Realtors and Greater Miami Board of Realtors.
As a highly respected and top producing real estate professional in South Florida, Amorette Robertson, broker-associate, MSPT, SRS has achieved great success in luxury residential sales since 1991. After graduating with a B.A. in Finance and Real Estate, Amorette began her career in Miami Beach selling oceanfront condos for one of the most successful developers in the country and, over the past 25 years, has gained extensive experience in all areas of the residential market, including pre-construction sales, construction management, condo conversions and luxury estate sales and leasing. In her relentless pursuit of higher education, Amorette completed her Master's of Science degree from University of Miami with top honors and has obtained the highest level of licensing in real estate. Amorette has received many awards for her achievements and has been featured on "The Best of South Florida" TV show and on Channel 7's luxury home segment featuring one of her prestigious listings. Her properties have been featured in the top magazines in the world, including Dupont Registry, Robb Report, Jet Set, Bespoke, Ocean Drive and Collections.
Andrea Perl, SRS, received a B.A. from George Washington University, graduating with honors, and completed an extensive real estate program at NYU School of Continuing and Professional studies.
She is a native of NYC where she gained invaluable knowledge buying, selling, and managing commercial and residential real estate. Andrea became an expert in the design and implementation of value enhancement strategies that included landmark restoration, interior and exterior building renovations and tenant build-outs. She also has extensive experience in obtaining permits and zoning changes from local, state and Federal agencies for all phases of real estate development. After a successful 20-year career in NYC, Andrea decided to relocate to Miami Beach to not only enjoy the amazing lifestyle, but to create an innovative and rewarding real estate collaboration with Amorette. They work hard to provide a seamless and stress-free experience for their buyers and sellers – delivering uncompromising quality and outstanding results.
To learn more, visit Amorette Robertson and Andrea Perl's Haute Residence profile.