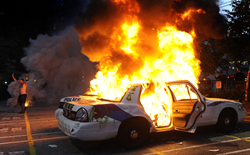 ...any form of impoverishment can keep you down or can be the catalyst for change.
New York, NY (PRWEB) December 06, 2014
Historically invisible in Ferguson, the residents of this small Missouri town exhibit a deep despair and melancholia that is unveiled in response to the death of Michael Brown. Reminding the nation that the war on race relations rages on. "The grief in this community did not begin when Michael Brown was shot and killed: The loss of his life exacerbated and illuminated what did not want to be seen," Edy Nathan, a New York Therapist states. She goes on to say, "Deeply entrenched in the depths of trauma, poverty and a legacy of violent enslavement, a primal response to finally being in public view is their only chance to be seen and heard. The magnitude of grief over rides the potential for feelings of guilt or shame when they hurt their own. They are hungry."
Cultural perspectives affect the way in which grief and trauma are handled. A reaction to death and the process of mourning in the African-American culture is different than in the Caucasian culture. Often more complex because professional help is not sought out, healing is a long and arduous process. In the case of the people in Ferguson, the magnitude of their grief is not shared by one but shared by many, touching the underlying grief of a nation that is not yet color-blind.
Here are 5 tools to navigate through the legacy of living with trauma and grief:
1. Understand what the grief reaction is about. Is it only the death of Michael Brown or the life being lived?
2. Identify the aspects of life that cause despair and sadness. What can be done to change the despair? Get involved in a community organization: For example a Church or youth group or the politics of the community.
3. Create a time-line of losses. How were the losses handled? Were they ignored or attended to. Nathan states: " It is easy to ignore loss when you have been isolated and invisible throughout life. The legacy of being born into loss and hopelessness is dehumanizing. Empowerment within the parameters of loss occurs when you break the cycle of grief. Instead of only being a victim, think about how you can be a survivor."
4. Create positive change. Start with something small rather than a choice that is currently unobtainable. Find others who want to join you in the shift. Don't do it alone. The chance for success increases when others are involved. Think of positive change as a type of political warfare."
5. Imagine the life you want to have. Start with a dream. Nathan believes that "any form of impoverishment can keep you down or can be the catalyst for change. Part of creating a dream enables you to find resources that will complement the dream. It is not for me to tell you what your dream needs to be. Simply to know that a dream can turn into an idea and from that idea a life worth living can be created by you. Make the impossible, possible."
For a complimentary meditation and more information about other topics related to grief, loss and trauma, please visit here.
About Edy Nathan:
Edy Nathan is a licensed psychotherapist with over 20 years of experience specializing in grief. For two seasons she was the therapist on the A&E TV Show, "Psychic Kids". She holds Masters from both New York University and Fordham University. She has post-graduate training from the Ackerman Institute for Family Therapy, The Gestalt Center and the Jungian Institute. She is a certified EMDR practitioner, regression therapist, certified hypnotherapist, relationship and grief expert. To find out more, visit EdyNathan.com.