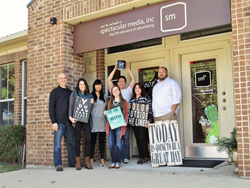 Easy-to-use software, in a seemingly complicated industry, is a breath of fresh air for many of our users.
Round Rock, TX (PRWEB) December 17, 2014
2014 marks a monumental year for digital advertising firm, Spectacular Media, creators of the innovative digital signage software solution, SM Infinity™. Since its launch in 2011, Spectacular Media has experienced substantial growth, attributable to their solid partnerships and leading-edge features. This year, the integration of IPAWS (Integrated Public Alert Warning System for LED and HD digital signage systems), new websites, and team expansion have further contributed to the company's ongoing success.
The ability to incorporate IPAWS in their SM Infinity platform has been a tremendous accomplishment for Spectacular Media. The feature allows users to enable their digital signage systems to automatically display emergency alerts from local, regional, and federal organizations. Digital signage is a powerful communication tool, and Spectacular Media saw the importance of utilizing this power to effectively keep communities informed and safe. The response has been great, with a consistent number of users enabling the feature every day.
"It is a simple, yet powerful feature that we offer all our users," stated Scott Hofheins, Special Ops Texas Director of Spectacular Media. "This is critical data, and we felt it was important to provide businesses and organizations with a way to display it on a digital sign."
Spectacular Media ensures end-users get the most value out of their digital signage systems by providing business owners with the opportunity to partner with their local government, become more involved in their community, and potentially save lives.
Recognizing the importance of a reliable web solution in a technology-driven world, Spectacular Media revamped their corporate and product websites to better represent their direction and their innovative software. Specifically, the SM Infinity site focuses on core features, supported by quick videos. Visitors can also schedule a walkthrough, see sample content, and even meet the team, along with Mojo, the grasshopper. "We took a very user-friendly approach to give users a one-stop-shop platform with SM Infinity, and the new site allows them to explore and even try it for free," stated Deacon Wardlow, Special Ops Colorado Director of Spectacular Media.
Spectacular Media has a great product to offer, and their partners have helped bring this product to life. According to Hofheins, their partnerships with solid display manufacturers, system integrators, and resellers have all played a key role in expanding their customer-base. Subsequently, they found a greater need for a bigger and better office, where they could expand their design and support teams. Being a welcoming community with an exceptional pool of talent, the Austin/Round Rock area has proven to be a good fit for the company. The new office will allow Spectacular Media to continue to grow and consistently deliver.
Since the start, Spectacular Media has been a connection-focused company, and their recent expansion has enabled the team to take a more proactive approach in reaching out to their manufacturing partners and end-users. The solid software solution they have built is just the half of it, with the other half being their extraordinary team. They are passionate about connecting with users at a human level, doing all they can to get to know the client and their business.
"Whether you're a client or a partner, the more proactive they [Spectacular Media] are at engaging and listening to you, the more effective they are in delivering," stated Paul Martin, Marketing Lead for Spectacular Media. "A personal connection is important, and they are taking the measures to make it happen." Establishing real connections and consistently gathering feedback from their customer-base is fundamental in ensuring everyone is getting the optimal experience.
The future looks bright for Spectacular Media and their approach to simplifying digital signage. Wardlow summed up, stating, "Easy-to-use software, in a seemingly complicated industry, is a breath of fresh air for many of our users."
Everyone should expect to see even more growth and great releases in the coming year, as they continue to embrace the future of the digital signage industry.