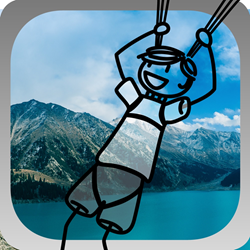 Queens, NY (PRWEB) December 04, 2014
Whether wishing mom Happy Birthday or just saying hello to a friend, Cam Animate is a fun way to create and share digital greetings. By combining photo sharing with lighthearted animations, Half Click Studios has given users a whole new way to keep in touch with their loved ones.
The perfect message can be created by simply uploading a picture and overlaying it with an animation, banner or text. Additionally, users can record their own voiceover narration or select their favorite song to play alongside it. Once their custom greeting is complete, Cam Animate users can then share their work on Faceboook, Tumblr and Instagram, or send it to their friends and family directly via email or text message.
"Cam Animate was created by Half Click Studios Inc. to merge pictures with animation in a fun way. These animated creations can be used for sharing on social media, digital greeting cards and much more," says Vincent DiGregorio developer of Cam Animate.
View a trailer for Cam Animate here: http://halfclickstudios.com
Features of Cam Animate include:

Create a digital video greeting from still photography.
Apply animations, banners and text to create a customized message.
Add voiceover narration or select a soundtrack.
Share Cam Animate animations on social media (Facebook, Tumblr or Instagram) or via email or text message.
Save to the device's camera roll for easy re-posting.
Cam Animate is available now for free on the iTunes App Store. For more information like Cam Animate on Facebook and visit their website, halfclickstudios.com
About Half Click Studios:
Half Click Studios Inc. is based out of Queens, NY. The company was formed with the main purpose of creating the most entertaining and user-friendly apps available. Cam Animate is the company's first app in what they hope turns out to be a long and successful career of development.