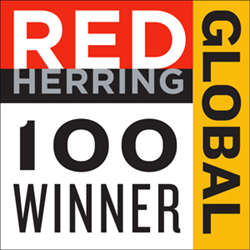 Of the thousands of startups we've reviewed over the history of the Red Herring Awards, we've never seen anything like Scaled Agile.
Boulder, CO (PRWEB) December 04, 2014
Scaled Agile, Inc. (SAI), provider of the Scaled Agile Framework® (SAFe®), the world's most comprehensive framework for adopting Lean-Agile best practices across an enterprise, today announced that it has been named a winner of the Red Herring 2014 Top 100 Global Award. This marks the first time in history that a software development methodology company has been awarded the top honor, which was recently announced during a gala ceremony in Pasadena, CA.
Red Herring Global is the culmination of a year's work of scouring the globe and reviewing thousands of privately held companies from around the world. The pool of candidates for the award are the top private companies from the Regional competitions in Europe, North America, and Asia. The Top 100 Global list has become a mark of distinction for identifying promising new companies and entrepreneurs. Red Herring editors were among the first to recognize that companies such as Facebook, Twitter, Google, Yahoo, Skype, Salesforce.com, YouTube, and eBay would change the way we live and work.
"Of the thousands of startups we've reviewed over the history of the Red Herring Awards, we've never seen anything like Scaled Agile," says Alex Vieux, Publisher and CEO of Red Herring. "Combining a revolutionary business model with the idea of Methodology as a service appears to be having a profound impact on business outcomes for some of the largest organizations in the world. They are truly worthy recipients of the Top 100 Global listing."
"Being named a Red Herring Top 100 Global company highlights the impact that Scaled Agile is having on businesses and government organizations around the world," said Scaled Agile CEO John Lambert. "This award is a credit to both the team at Scaled Agile and the SAFe community of practitioners through which the ubiquity of the Scaled Agile Framework is realized."
Francis Kelly, Scaled Agile's VP of Worldwide Sales and Marketing added, "It was a privilege to have presented alongside so many ground-breaking startups. From cognitive scientists pushing the next frontier of artificial intelligence, to mining engineers who are deploying new technology to transform greenhouse gas emissions into carbon-negative everyday products like baking soda and bleach, these are the people who are truly changing the way we view and interact with the world around us."
For more details on Scaled Agile, please visit scaledagile.com. On Twitter, follow @ScaledAgile.
About Scaled Agile, Inc. (SAI):
Based in Boulder, Colorado, USA, privately-held SAI's mission is to help software-dependent companies achieve better outcomes, increase employee engagement, and improve business economics through adoption of Lean-Agile principles and practices based on the Scaled Agile Framework. A 2014 winner of the Red Herring Global Top 100 Award, and 2015 Edison Award Nominee, SAI supports tens of thousands of practitioners of the Framework through training, certification, consulting services, and a global partner network that reaches over 35 countries and 350 cities.
Contact:
Francis Kelly, VP Partner Development
+1.303.883.0959
Francis(dot)Kelly(at)scaledagile(dot)com